Hilton Accra Cantonments expected to start welcoming guests in December 2023
ACCRA, Ghana - Hilton has signed a management agreement with High Street Development Company Limited to open Hilton Accra Cantonments, a new build hotel that will mark Hilton's debut in Ghana. The announcement was made ahead of the Africa Hotel Investment Forum (AHIF) which is set to take place in Nairobi this week.
The hotel will be located in Cantonments, an upscale suburb which is home to multiple embassies and high commissions - including the US and French embassies which will be within walking distance of the property. Hilton Accra Cantonments will also be less than five kilometres from Kotoka International Airport, making it a convenient choice for international and domestic travellers alike.
"With the signing of Hilton Accra Cantonments, we are delighted to be growing our pipeline in Ghana and adding momentum to our plans to more than double our portfolio in Africa in the coming years," said Carlos Khneisser, vice president, Development, Middle East & Africa, Hilton. "The opening of the hotel later this year will mark our entry into Ghana - one of the world's largest producers of gold and cocoa, and a burgeoning tourist destination. We look forward to this exciting milestone which will highlight our continued expansion in Africa."
For more than a century, Hilton Hotels & Resorts has set the benchmark for hospitality around the world. Once open, Hilton Accra Cantonments will bring this hospitality to life, featuring 145 guest rooms and a range of dining options including an all-day dining restaurant, a lobby lounge and pool bar.  In terms of leisure facilities, the hotel will offer a gym, spa, and outdoor swimming pool. In addition, it will have more than 900 square metres of event space including a ballroom, seven meeting rooms and an executive boardroom.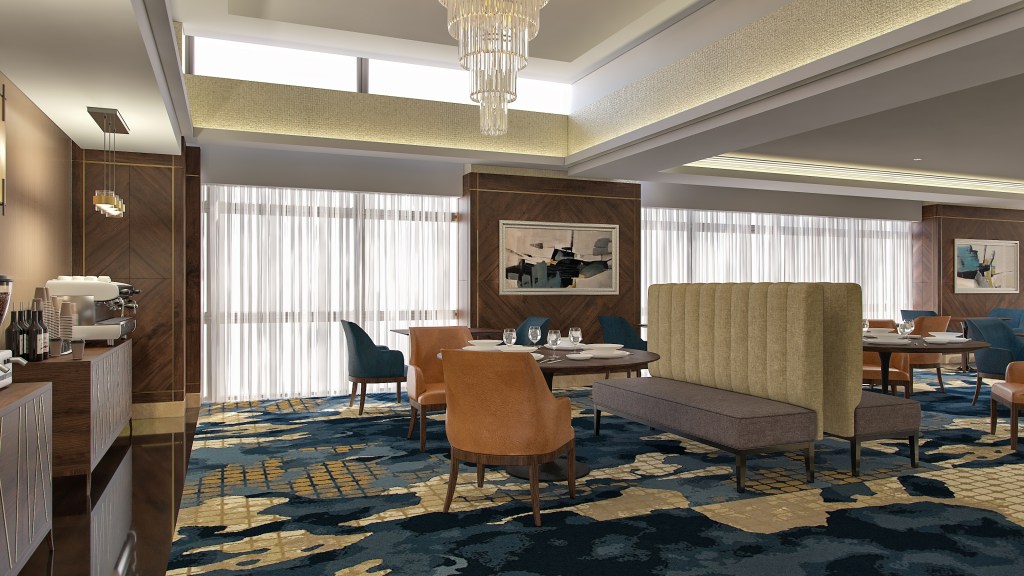 "We are delighted to partner with Hilton to open this world-class hotel which will soon grace Ghana's capital city," said Dr. Charles Mensa, owner, High Street Development Company Limited. "We are confident that once open, the hotel will be an attractive option for travellers to Accra, offering high-quality accommodations and globally renowned service standards."
Hilton currently has three hotels in the pipeline in Ghana including Hilton Garden Inn Accra Liberation Road – and 43 hotels in Africa, with another 65 under development. 
For more information about Hilton Hotels and Resorts, please visit Stories From Hilton.
---
About Hilton
Hilton (NYSE: HLT) is a leading global hospitality company with a portfolio of 22 world-class brands comprising nearly 7,400 properties and more than 1.1 million rooms, in 124 countries and territories. Dedicated to fulfilling its founding vision to fill the earth with the light and warmth of hospitality, Hilton has welcomed more than 3 billion guests in its more than 100-year history, earned a top spot on Fortune's 100 Best Companies to Work For list and been recognized as a global leader on the Dow Jones Sustainability Indices for six consecutive years. Hilton has introduced several industry-leading technology enhancements to improve the guest experience, including Digital Key Share, automated complimentary room upgrades and the ability to book confirmed connecting rooms. Through the award-winning guest loyalty program Hilton Honors, the more than 173 million members who book directly with Hilton can earn Points for hotel stays and experiences money can't buy. With the free Hilton Honors app, guests can book their stay, select their room, check in, unlock their door with a Digital Key and check out, all from their smartphone. Visit stories.hilton.com for more information, and connect with Hilton on Facebook, Twitter, LinkedIn, Instagram and YouTube.
---
About Hilton Hotels & Resorts
For over a century, Hilton Hotels & Resorts has set the benchmark for hospitality around the world, providing new product innovations and services to meet guests' evolving needs. With more than 600 hotels across six continents, Hilton Hotels & Resorts properties are located in the world's most sought-after destinations for guests who know that where they stay matters. Experience a positive stay at Hilton Hotels & Resorts by booking at hiltonhotels.com or through the industry-leading Hilton Honors app. Hilton Honors members who book directly through preferred Hilton channels have access to instant benefits. Learn more about Hilton Hotels & Resorts at stories.hilton.com/hhr, and follow the brand on Facebook, Twitter and Instagram.