REYKJAVIK, Iceland – In high anticipation, Iceland Parliament Hotel, Curio Collection by Hilton has opened its doors to guests. In a complex of seven rebuilt and new buildings, the 163-room hotel sits at the doorstep of the Icelandic parliament – Alþingi – joining Curio Collection by Hilton, a global portfolio of more than 130 one-of-a-kind hotels and resorts handpicked for their distinct character.
New construction, reconstruction, and careful preservation maintain the important heritage of the building, presenting irresistible class to the cityscape. Between the Ladies' School and Independence Hall, to the modern new building, the most striking feature is the restoration of the old Landsímahúsið, which reflects the elegant and classic architectural style of the local Austurvöllur Square.
In keeping with the local social culture, the hotel offers more access to the public than ever before, with Telebar and Hjá Jóni Restaurant welcoming guests and locals to take in the country's capital in what was once the headquarters of Iceland Telecom. Furthermore, on display inside the hotel is a part of the largest privately owned art collection, giving guests unique access to renowned Icelandic art.
Surrounded by three lively squares, and just steps away from Reykjavik Cathedral, Harpa Concert Hall, City Hall, and the trendy harbour area, the hotel opens in a prime location within the city's most high-profile zone. Additionally, the nearby old Reykjavik harbour offers spectacular scenes of the northern lights in winter, and midnight sun during the peak of summer.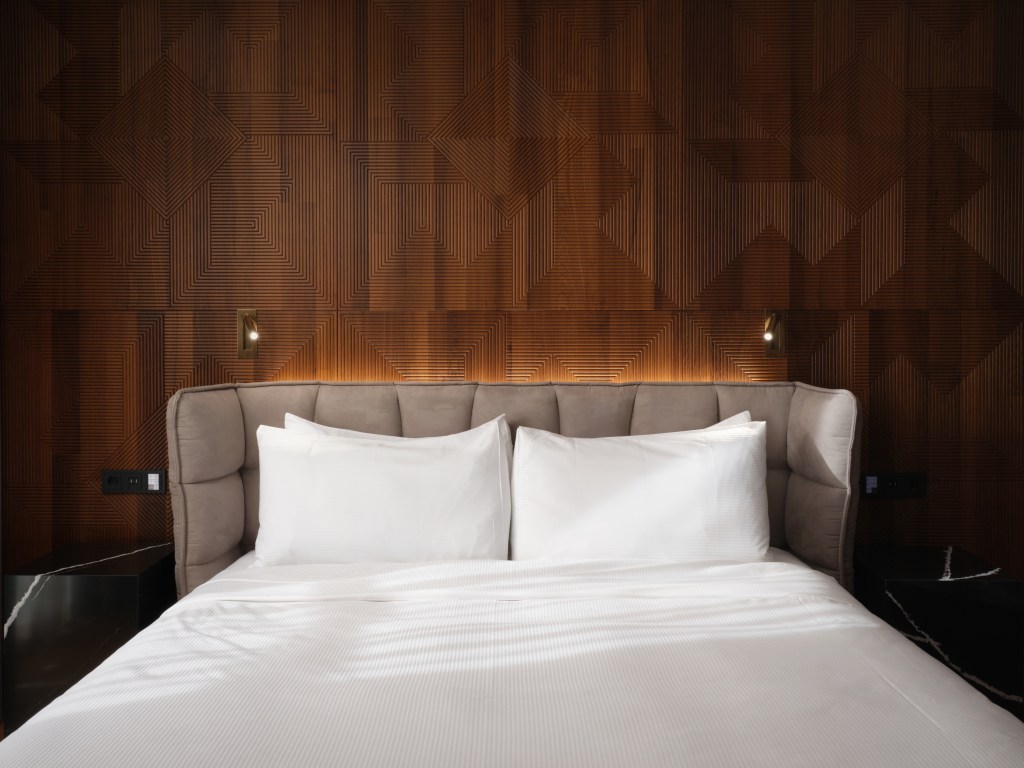 Hotel Highlights:
Local Design & Architecture: Offering 163 guest rooms, family rooms, and suites – each equipped with a 55-inch HDTV, espresso machine, and mini-fridge - the hotel is a feat for design where the seven rebuilt and new buildings reflect the different eras of Icelandic history, making the Iceland Parliament Hotel a visual landmark in the city center.
Hjá Jóni Restaurant: Serving local delicacies with an international flair, the restaurant is bordered by large windows which frame the views of Austurvöllur central square and the statue of Jón Sigurdsson - the founding father of Icelandic independence in the 19th century. The name Hjá Jóni translates as 'By John' and commemorates the national hero and his role in the development of modern democracy in Iceland.
Telebar: The lively Telebar is inspired by the former headquarters of Iceland Telecom and the center of international communication in the 20th century, which once operated within the main building of this hotel. Telebar connects with Hjá Jóni Restaurant to make a delightful combination of a quiet retreat and bustling socialisation.
Spa & Fitness: The hotel features a beautiful spa area with traditional Icelandic geothermal hot tubs, sauna and steambaths, as well as offering massage and wellness treatments. The exercise area is also open to guests 24/7.
Meetings & Events: As a leading conference and event venue in Reykjavik, Iceland Parliament Reykjavik offers various function rooms and event spaces. The newly-renovated Independence Hall is one of the most elegant and magnificent banquet halls in the city, and can accommodate up to 200 guests, fitting for the grandest of occasions. Other function spaces include the Ladies School, a perfect setting for both formal and informal events, with a capacity of up to 100 guests.
"We are delighted to welcome guests to our grand and unique new hotel," said Helgi Vigfússon, general manager, Iceland Parliament Hotel, Curio Collection by Hilton. "It has been a long and meticulous process to develop this property in such a precious place in the heart of the city. Whether guests are here to connect with our culture and nature, or if they're simply here to meet others at a conference or event, we believe we have something very special to offer. Our rich history, along with the proximity to both the Parliament and City Hall, as well as the original city square and many of the top attractions in Reykjavik, makes Iceland Parliament Hotel an unmatched space for a truly unique experience."
Iceland Parliament Hotel is also part of Hilton Honors, the award-winning guest-loyalty program for Hilton's 18 distinct hotel brands. Members who book directly have access to instant benefits and the Hilton Honors mobile app. Book direct at Hilton.com, through the Hilton Honors app or through other official Hilton channels for more perks and a price match guarantee. Hilton Honors members can redeem Points using the Points Explorer tool.
For more information, or to make a reservation, visit Hilton.com or call +354 513 3000. The property is managed by Iceland Hotel Collection by Berjaya.
---
About Hilton
Hilton (NYSE: HLT) is a leading global hospitality company with a portfolio of 22 world-class brands comprising nearly 7,400 properties and more than 1.1 million rooms, in 124 countries and territories. Dedicated to fulfilling its founding vision to fill the earth with the light and warmth of hospitality, Hilton has welcomed more than 3 billion guests in its more than 100-year history, earned a top spot on Fortune's 100 Best Companies to Work For list and been recognized as a global leader on the Dow Jones Sustainability Indices for six consecutive years. Hilton has introduced several industry-leading technology enhancements to improve the guest experience, including Digital Key Share, automated complimentary room upgrades and the ability to book confirmed connecting rooms. Through the award-winning guest loyalty program Hilton Honors, the more than 173 million members who book directly with Hilton can earn Points for hotel stays and experiences money can't buy. With the free Hilton Honors app, guests can book their stay, select their room, check in, unlock their door with a Digital Key and check out, all from their smartphone. Visit stories.hilton.com for more information, and connect with Hilton on Facebook, Twitter, LinkedIn, Instagram and YouTube.
---
About Curio Collection by Hilton
Curio Collection by Hilton is a global portfolio of more than 145 individually remarkable hotels hand-picked to immerse guests in one-of-a kind moments in the world's most sought-after destinations. Each hotel in the Curio Collection evokes a bespoke story through distinctive architecture and design, world-class food & beverage and curated experiences, while providing the benefits of Hilton and its award-winning guest loyalty program Hilton Honors. Experience Curio Collection by Hilton by booking at curiocollection.com or through the industry-leading Hilton Honors app. Hilton Honors members who book directly through preferred Hilton channels have access to instant benefits. Learn more about Curio Collection by Hilton at stories.hilton.com/curio, and follow the brand on Facebook, Instagram and Twitter.