To commemorate International Chefs Day on Oct. 20, Hilton chefs across the Americas have shared how Hilton inspires creativity, thinking out of the box and collaboration in their jobs.
"Hilton's elevated dining across the Americas showcases the boundless creativity, vision and passion of our stellar hotel culinary teams, through reimagined restaurant concepts, thoughtfully-designed cocktails, diverse dishes paying homage to local culture and more," said Tom Walters, senior vice president, food & beverage, Americas, Hilton. "The food and beverage experience tells a story, whether it's with menus inspired by family traditions or globally-inspired menus built through collaboration with peers across the globe. At Hilton, we empower our team members to incorporate their ideas, be innovative and bring their stories to life."
As we head into the holiday season and enjoy shared meals around the table with friends, family, peers and loved ones, our chefs have shared some of their favorite dishes that are better when made together.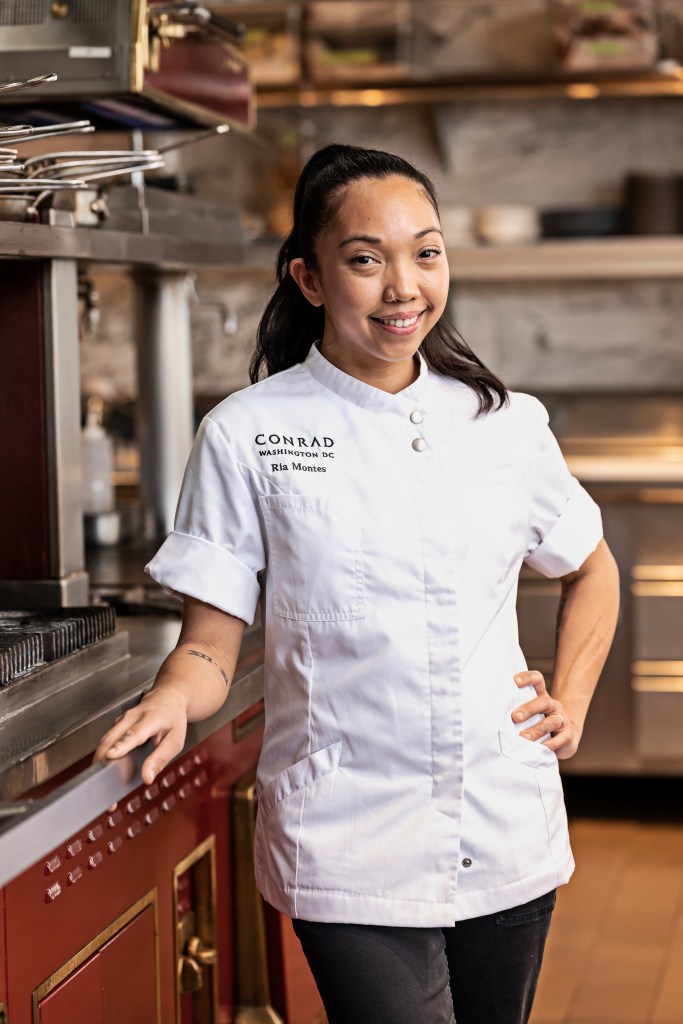 Chef de Cuisine Ria Montes
Restaurant: Estuary at Conrad Washington DC
Dish: Mushroom Stuffing
Raised in a large Filipino family in the melting pot of Forest Hills, Queens, Chef Ria Montes developed her deep love for food and passion for cooking while learning the ropes alongside her aunties, cousins and other extended family members as they cooked traditional meals for a small village of relatives. The idea of connecting with the cultural ties of her heritage through cooking delicious food lit a spark in Chef Ria, which took her to the French Culinary Institute for her education.
After graduating, Chef Ria spent time in several kitchens throughout New York City, including Smith and Wollensky in midtown East and Andaz on 5th Avenue, where her exceptional work ethic drove her promotion to Executive Sous Chef.
Having spent several years at Andaz, Chef Ria moved to Washington, D.C. to accept the position of Sous Chef working under Executive Chef Brad Deboy at Michelin-starred Blue Duck Tavern. From there, Chef Ria joined another exceptional DC culinary mind, Chef Opie Brooks, at A Rake's Progress, where she was able to exercise her creative side in designing menus based on daily produce from local farmers.
When the COVID-19 pandemic caused the restaurant to close, Chef Ria joined the team at Albi in Navy Yard before re-joining Chef Opie to open No Goodbyes, a new restaurant occupying A Rake's Progress's sister restaurant in the same building.
Through her experience, Chef Ria has developed a unique approach to cooking based around the notion that creating good food doesn't necessarily come with parameters—creativity and the courage to trust your instinct in knowing what works well, are imperative in developing dishes that allow the ingredients to shine in unexpected ways. As Chef de Cuisine of Estuary, Chef Ria is excited to bring her philosophy and passion front and center as she embarks on creating a new, innovative take on the seasonal flavors of the Chesapeake Bay Watershed.
How does this recipe celebrate teamwork?
Chef de Cuisine Ria Montes: "I love taking on the task of cooking the stuffing for Thanksgiving with my nieces and nephews because I can give them fun tasks like squishing the bread together, which lets them use their hands and really get into making the dish. It also leaves them with a sense of pride and ownership over the stuffing, like, 'I helped make this!' And for the adults, it keeps the kiddos busy in the kitchen."
Ingredients
400 g croissants 
200 g sourdough bread 
300 g chopped mushrooms 
80 g garlic  
40 g chopped thyme 
400 g beef stock 
150 g heavy cream 
4 whole eggs
Directions
Tear all bread into same-size pieces and set aside.
Mix beef stock, heavy cream and whole eggs in a bowl until all incorporated. 
Pour mixture into bread. 
Fold in mushrooms, thyme and garlic. 
Salt to taste. 
Let set overnight. Cover with foil.
Bake in a 375 F oven until the bread is firm. 
How has Hilton empowered you in your role?
Chef de Cuisine Ria Montes: "Working at Hilton has allowed me to really take my creativity and run with it. When I started at Estuary at Conrad Washington DC, I approached the team with an idea that I've always wanted to do: a dinner series highlighting the incredibly talented women who work in the food and beverage industry here in DC.
Throughout my time working in various restaurant kitchens in New York and DC, I've often run into situations where I've been either the only woman in the kitchen or one of two women -- it goes without saying that the restaurant industry is fairly male-dominated. But in these situations, I've also had the privilege of getting to know other women and seeing the incredible amount of talented women there are working in restaurants who may run a little under the radar.
When I approached the team with my idea, there was not only no hesitation, the entire team got excited about it and ideas from all of the chefs, sommeliers and managers started flowing. We've now hosted two of our Miss-en-Place dinners with a third scheduled for December. This could not have happened without the support and flexibility of Hilton to allow me to not only express my ideas, but also have them supported and have them come into reality, which is something I haven't experienced before."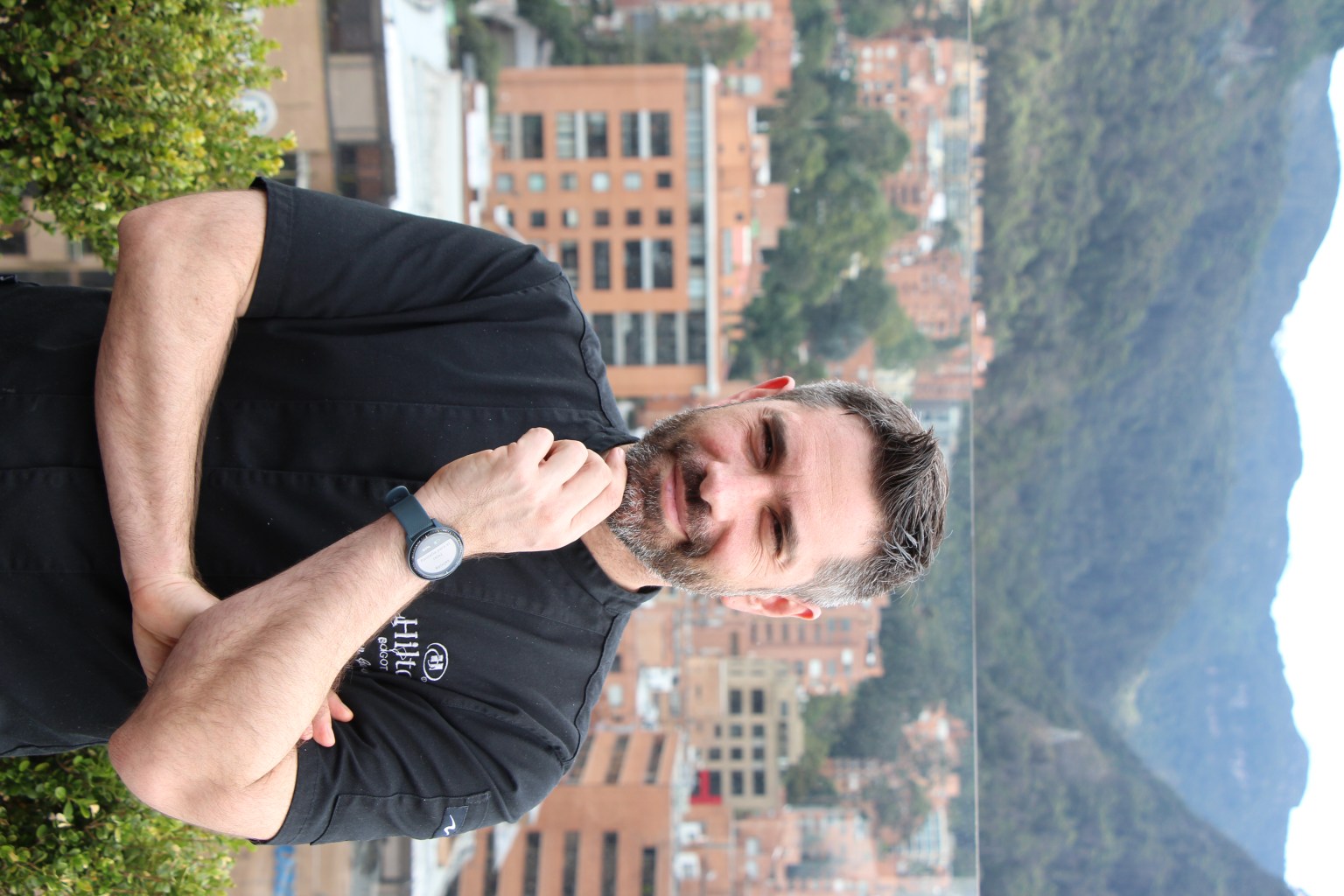 Executive Chef Adrián Gerboles
Hilton Bogota
Dish: Avocado Toast with Smoked Salmon
Chef Adrián Gerboles has a culinary passion with more than 17 years of experience, mostly in the hospitality industry, working as an executive chef at Hilton Bogota, Canopy by Hilton Cancun, and Hilton Mexico City Santa Fe, among others. He has a strong French-based approach to his cooking and is always looking for constant improvement and trying to incorporate new knowledge into what he is passionate about. 
How does this recipe celebrate teamwork?
Executive Chef Adrián Gerboles: "I've always made this easy and delicious dish with my friends at my home enjoying their good company and with simple and easy-to-find ingredients that everyone always likes. That's when I [got] the idea of taking it to the hotel restaurant, nowadays it has become one of the best-selling dishes on the menu. As a leader I see in every one of my chefs their potential and what makes them great, with that in mind in our kitchen we work hand in hand, helping each other in order to make a great culinary experience for our guests. That's what makes a great environment in our space of work."
Ingredients
2 Avocados
Microgreens (to taste)
Juice of 2 Lemons
8 Slices of Smoked salmon
Sea salt (to taste)
Fresh dill to garnish (to taste)
4 Slices of Sourdough bread or similar bread
Olive oil (to taste)
8 Asparagus Stalks
Dill to garnish
Directions
In a bowl, mash together one of the avocados with lemon juice. Season with sea salt to taste.
Cut thin slices of avocado and season with olive oil and sea salt, save to garnish the toast.
Spread some olive oil on the bread, then toast it on a grill with low heat.
Cut the asparagus in the middle, boil for four minutes in hot water, and marinate with olive oil and sea salt.
Proceed to assemble, spread the mashed avocado on the toasted bread, over this put two slices of the smoked salmon, then some avocado slices, and the asparagus.
Garnish the dish with dill, olive oil, and sea salt.
How has Hilton empowered you in your role?
Executive Chef Adrián Gerboles: "I have been working with Hilton for 11 years, I think in this time I have grown as a person and professional. Hilton has empowered me in the same way it does with every one of the team members. The company gives you the freedom to work making you bright in what you are good at, and with incredible communication with colleagues. You can learn so much to improve in the things you are weak at. Another thing that I highly value about Hilton Is that I was able to work in four different countries, which lead me to learn from different cultures and incorporate all of them into the menus I developed with my teams."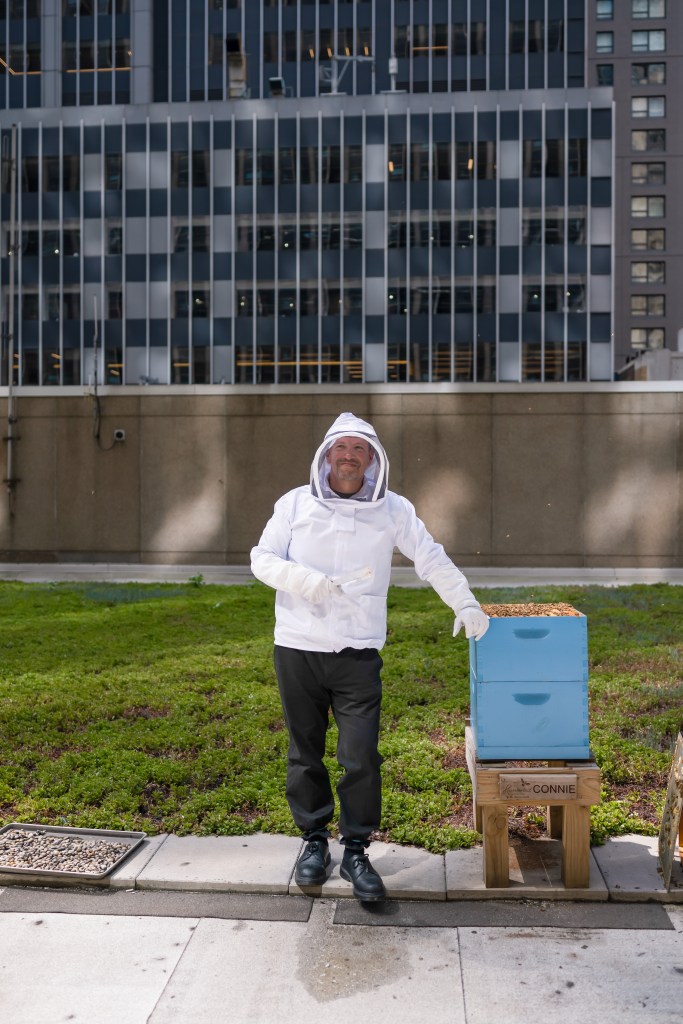 Director of Culinary Peter Betz
New York Hilton Midtown
Dish: Applewood Smoked Salmon Timbale with Hudson Valley Apple Salad
A graduate of the Culinary Institute of America, Chef Peter Betz started his professional career with Four Seasons Hotel in New York City and has been a leader in the community ever since. Four years and 3 stars from the New York Times later, he began his long tenure with Hilton at the famed Waldorf Astoria on Park Avenue, where he rose through the ranks to become their Executive Chef. In that role, Chef Betz cooked for Presidents, dignitaries, celebrities and socialites.
In 2012, Peter was appointed to the State Department's Diplomatic Chef Corps, an honor that has only been bestowed upon 80 of the country's most influential chefs.
When Waldorf Astoria closed for renovation, Chef Betz accepted the Director of Culinary role with New York Hilton Midtown, where he oversees a team of six managers and 60+ chefs. Chef Betz brought with him an elevated approach to cuisine, an extensive network of local vendor partners and 500,000 bees which he tends to on the fifth floor as part of his commitment to sustainability.
Beyond the kitchen, Chef Betz is passionate about giving back to the local community and has connected New York Hilton Midtown with some of his favorite local charities in NYC, including Crossroads Community food pantry and Human Rights Campaign.
How does this recipe celebrate teamwork?
Director of Culinary Peter Betz: "This dish can be a lot of fun to make with a group of friends. Each person can prepare a component and then you can all come together to compose the dish."
Ingredients
3/4 Pound Green Apple (peeled and small diced)
3/4 Pound Idaho Potato (peeled and small diced)
1/4 Cup Mayonnaise
1/4 Cup Crème Fraiche
1 Tablespoon Horseradish
1/8 Cup chopped Chives
1 ½ Tablespoon Cider Vinegar
8 Slices Applewood Smoked Salmon
Rainbow Micro Greens
8 Salted Potato Chips
1 Tablespoon Extra Virgin Olive Oil
Salt and Pepper
Directions
Place diced potatoes in a pot of salted water and bring to a boil. Reduce to a simmer and cook until tender (Should be slightly firm) - once cooked, cool and set aside.
In a bowl, combine the mayonnaise, crème fraiche, horseradish, cider vinegar and chives.
In a bowl, combine the potatoes, apples and sauce.
Season the salad with salt and pepper to taste.
Roll the salmon into 8 cigar-shaped cylinders and trim the sides.
Place a 2 ½ -3 inch ring mold in a plate and fill with the salad (repeat to make 4 plates).
Place 2 of the salmon cylinders on top of the salads.
Top with 2 potato chips,
Garnish with rainbow micro greens.
Drizzle oil around plate to finish.
How has Hilton empowered you in your role?
Director of Culinary Peter Betz: "Hilton has been a really empowering environment for chefs to learn and grow. Chefs from around the company are often brought together to collaborate on recipes, trends, and best practices and to support each other whenever needed. I think this collaborative spirit is what really makes Hilton chefs shine above the rest."