World Bicycle Day is internationally recognized every June 3 to encourage more people to cycle, highlighting the activity as a simple yet unique and environmentally sustainable means of transportation. But riding a bike is also a low-impact way to boost health. Numerous studies show it improves strength, endurance, flexibility and mental health, as research indicates biking can reduce anxiety and depression. It is also a fantastic way to explore a new destination when traveling—a win-win for more than a quarter of respondents to Hilton's 2023 Trends Report who will make fitness a priority when traveling this year. 
Travelers looking to ride a bike around the country will fall in love with the vibrant Canopy by Hilton boutique hotels. This collection of properties is found in lively, often rejuvenated neighborhoods and features complimentary bicycles for its guests to use as they intimately explore new neighborhoods and immerse themselves in new cultures, a trend for one in three travelers, according to the report. Canopy properties make it easier than ever to peddle through the streets, including these bike-friendly cities where you can celebrate cycling all summer.
Experience the Renaissance of Washington, D.C.'s Revitalized Wharf
Our nation's capital is filled with history at every turn. Many travelers take to bikes to explore America's most-visited national park, The National Mall, home to the Lincoln Memorial, Washington Monument and the U.S. Capitol. Delve deeper into Washington by exploring the revitalized Wharf neighborhood, a multibillion-dollar hotspot for entertainment, dining, shopping and attractions, including the new Rubell Museum, housed in the former historic Randall Junior High School building. Part of The Wharf's revitalization included the addition of biking routes and trails, and Canopy hotel guests borrowing an orange cruiser can take a spin on the extended Maine Avenue Cycletrack or along the Anacostia Riverwalk and Mount Vernon Trails. As fresh as the neighborhood itself, Canopy by Hilton Washington DC The Wharf is immersed in the southwest D.C. neighborhood and allows guests to mingle with local neighbors at its energetic Whiskey Charlie Rooftop Bar, where signature cocktails are served with skyline views. Or, slip into a cozy armchair at Canopy Central Café and watch residents preparing to set sail from the adjoining Wharf Marina. You can even hop aboard one of the many sailing excursions that depart from The Wharf!
Let the Good Times Roll in New Orleans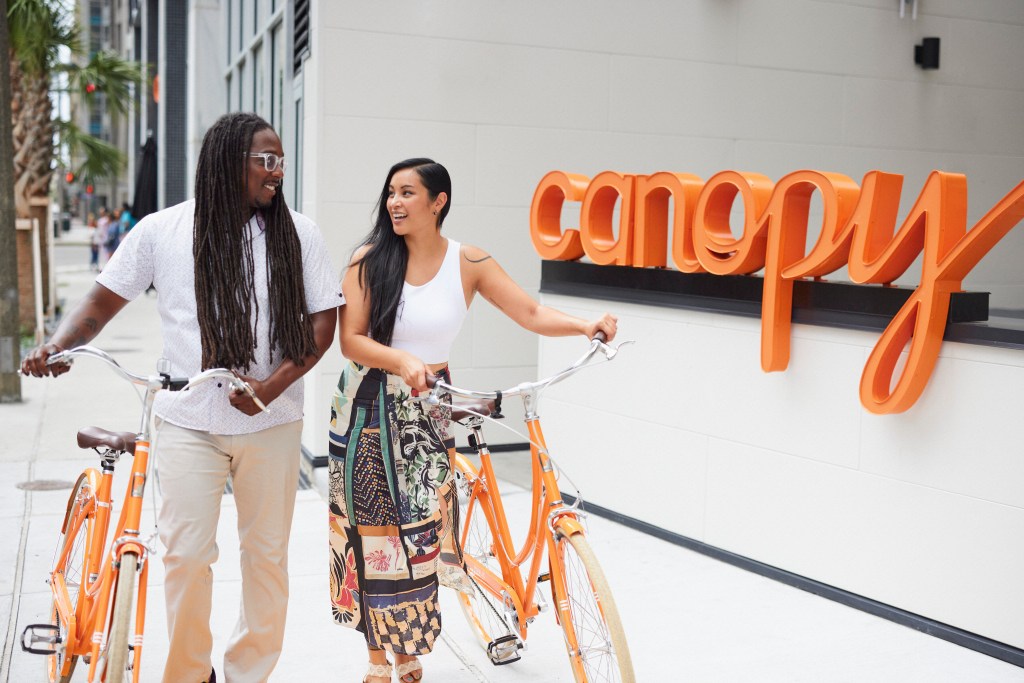 New Orleans is rich in culture and full of exciting fun. But the Crescent City is more than the revelry found on Bourbon Street, especially when taking to two wheels. Borrow a Canopy Bike for a scenic ride along the Mississippi River Trail, which offers more than 60 miles of bike and pedestrian paths, or head to City Park and enjoy an afternoon of sunshine and boating on Big Lake. Within biking—and walking—distance of the French Quarter is the heart of NOLA: Downtown. This revitalized waterfront district has been undergoing a multibillion-dollar investment and is filled with more than 300 restaurants, bars and sidewalk cafés as well as dozens of art galleries and museums and a collection of charming parks and squares. A proud member of the community, Canopy by Hilton New Orleans Downtown unites the area's past with its present and future in modern accommodations and features such as the eclectic Cantonese-Creole comfort food menu found at Ginger Roux restaurant. The local favorite is influenced by regional and seasonal ingredients and immerses guests in NOLA's foodie culture while providing more fuel for another day cycling beneath Spanish moss-covered trees.
Move Your Body in the Midwest's Magnificent Minneapolis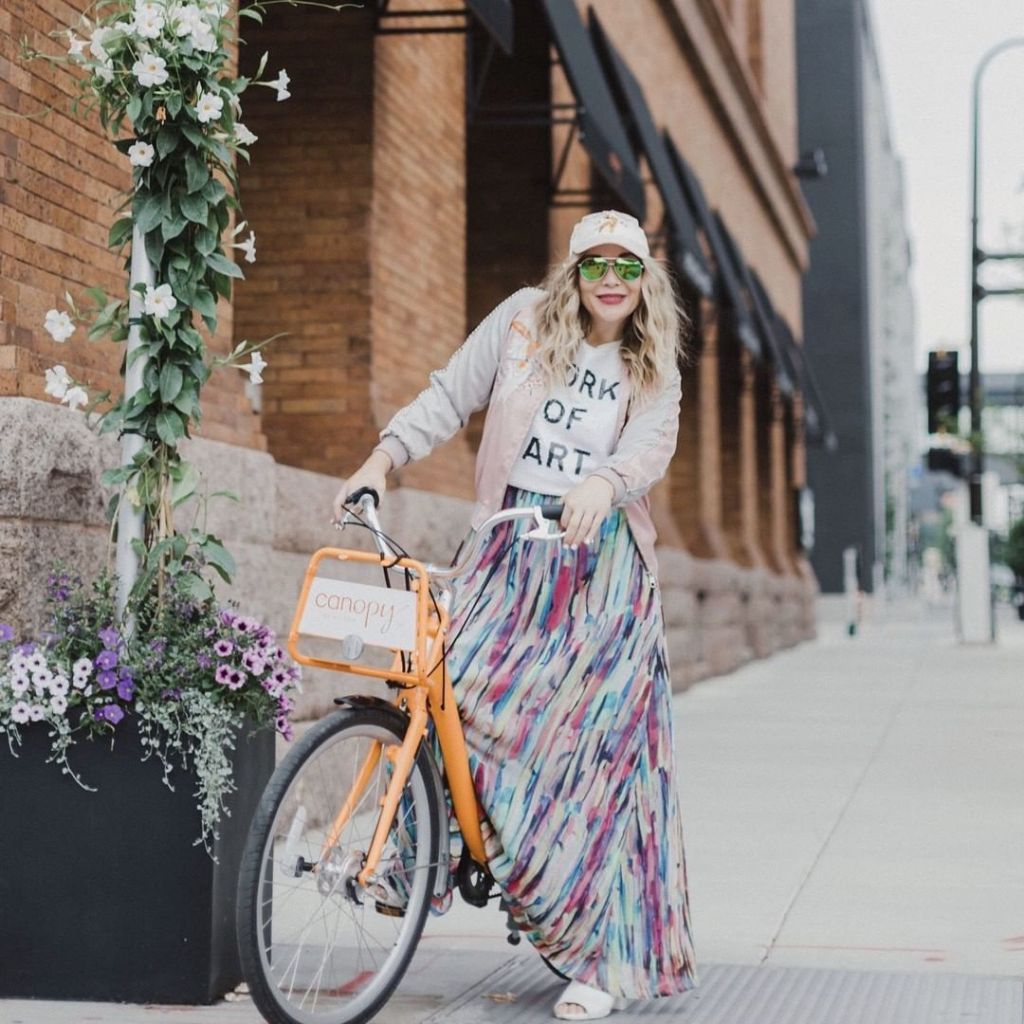 Ranked as one of the best biking cities in the United States, Minneapolis features 98 miles of bike lanes and 101 miles of bikeways and trails just waiting for biking enthusiasts to enjoy. Take a Canopy bike along Minneapolis' Grand Round National Scenic Byway and soak in the city's chain of lakes, including Lake Harriet and Lake of the Isles. Or move your way to Dakota Rail Regional Trail, where views of Lake Minnetonka and Lake Waconia surround you. After a long day on the bike paths, wind down in the Mill District, so named for its early days as the flour milling capital of the world and today the dining and nightlife heart of Minneapolis. Continuing the historic neighborhood's industrialized yet modern stylings is Canopy by Hilton Minneapolis Mill District, outfitted with exposed brick, architectural wooden beams and mixed metal elements in a loft-like environment. The hotel is home to one of the East End's most energizing restaurants, UMBRA, which serves up locally curated menus, craft beers and distilled beverages to support its community and introduce newcomers to Minnesotan fare.
Bike Your Way Through Boston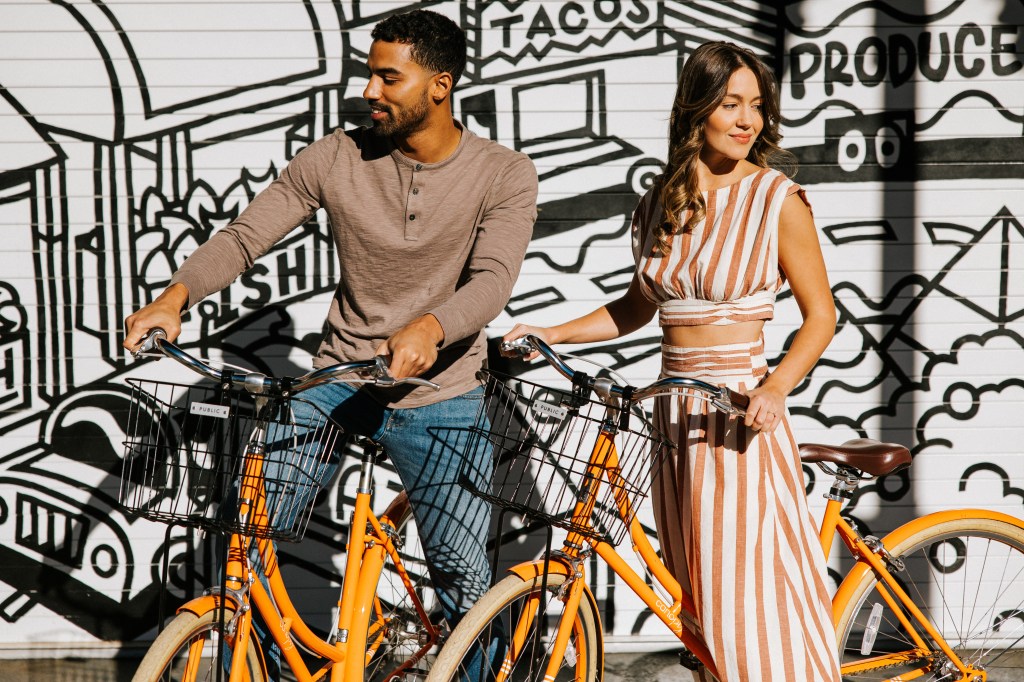 Notorious for its one-way streets that wind around buildings dating back to the Revolutionary days, let the friendly staff at the new Canopy by Hilton Boston Downtown help direct you to some of Boston's best sights to see on two wheels. Located near the famous cobblestoned Quincy Market and Faneuil Hall Marketplace, where locals have been gathering to shop and dine for nearly 200 years, the hotel faces the urban Rose Kennedy Greenway stretching from the North End to the Waterfront neighborhoods—the result of a decades-long revitalization project that moved a once city-dissecting interstate underground and made way for park space. Sample the 35-mile bike tour along the Emerald Necklace, a network of parks and waterways connecting Downtown Boston to the nearby town of Brookline. Or explore the 3-mile Esplanade trail along the Charles River admiring the skyline of both Boston and neighboring Cambridge while passing sites such as Harvard University, Fenway Park and taking in the beauty of the river itself watching the dozens of university scullers row past. Take a spin from the hotel through nearby historic Charlestown and link up to the family-friendly Charlestown Waterfront Bike Path where you'll travel through time passing the USS Constitution and Bunker Hill Monument all while taking in the Atlantic sea breeze before refueling at local haunts like ROSE Town Kitchen and Bar, where longtime Boston-based Chef Andrew Beer invites residents and hotel guests to sample American classics with his signature twist.
Coast Through the Picture-Perfect Desert of Scottsdale, Arizona
One of only 35 cities named a Gold-level Bike-Friendly Community by the League of American Bicyclists, the Valley of the Sun is made up of a variety of trails for two wheels, from mountain biking to paved pathways. Grab a complimentary Canopy bike from Canopy by Hilton Scottsdale Old Town and set off on the Mountain Vista Self-Guided Bike Tour, a 2.3-mile loop trail outside the hotel doors with two stops that center McDowell and Camelback Mountains within picture-frame artwork for a picture-perfect day. Guests of the hotel can also take in views of Camelback from a perch at the boutique hotel's rooftop pool and savor posh plates and locally inspired cocktails at Outrider Rooftop Lounge. Canopy's Old Town location puts guests in the heart of one of Arizona's most celebrated neighborhoods, complete with first-class shopping and dining, including Cobre Kitchen and Cocktails, an American brasserie inspired by the Southwest.
Canopy by Hilton is a sophisticated boutique lifestyle brand, providing guests and locals a place in the neighborhood to relax in an energizing atmosphere with neighborhood-inspired food and drink. The Canopy portfolio includes more than 35 available properties around the globe and can be booked at canopybyhilton.com.
Research source: https://health.clevelandclinic.org/benefits-of-cycling/