These European itineraries are perfect if you only have a week to spare
It's never too early to think about your next vacation. And with most European countries currently open to travelers from the United States (some requiring a negative COVID test and/or proof of vaccination to enter), now is the perfect time to start planning that trip across the Atlantic. One of the great things about traveling to Europe is how easy it is to get around once you're there because of the high-speed rail systems and affordable international flights, so you can make a trip work even if you only have seven days. Regardless of if you're booking a trip this summer or looking ahead to later in the year (or beyond), check out these four itineraries that can be done in a week. 
Jump to itinerary:
London + Paris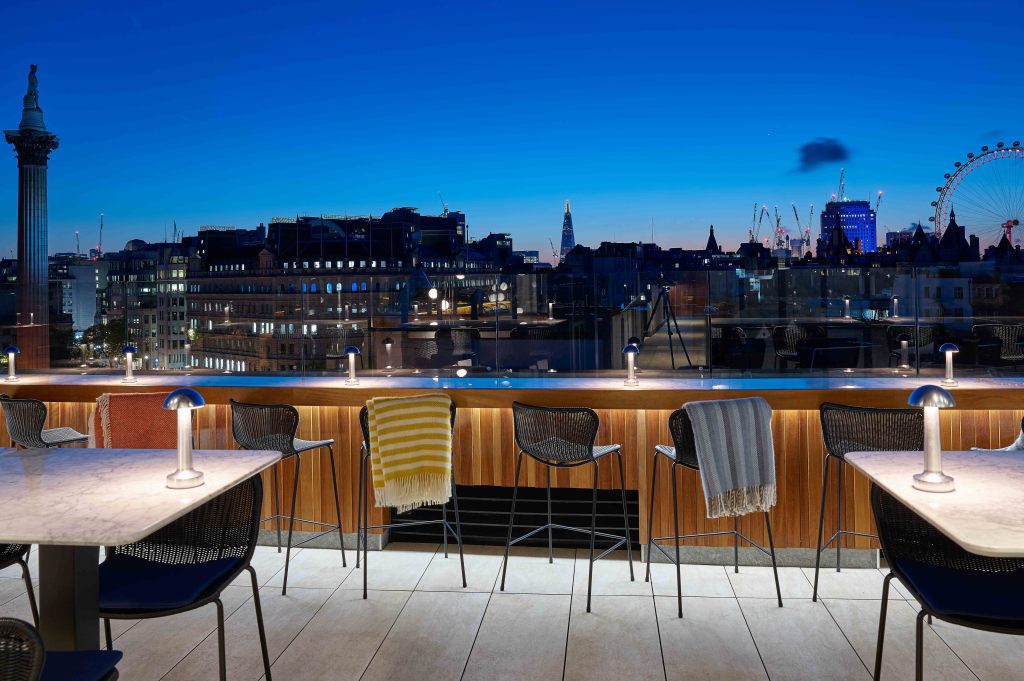 Start in London, England
Start in London and visit sites like Trinity Buoy Wharf, British Library's Treasures Gallery and Portobello Market. Try the famous fish, chips and mushy peas, a traditional high tea, and watch the sunset while drinking a fabulous cocktail at rooftop bar Aqua London. If you want to stay in a neighborhood that's close to attractions, The Trafalgar St. James London, Curio Collection by Hilton sits on the corner of its namesake, with unrivaled views over the famous square and Nelson's Column. Steps from the National Gallery, and less than a mile from Buckingham Palace, there are also nearby hidden gems to discover. Stroll along Cecil Court, also known as Bookseller's Row for its secondhand bookstores and antique shops. After a day of exploring, head to the hotel's rooftop bar lauded as one of the best in the city for its craft cocktails and sights of the London skyline. Lost Property St Paul's London, Curio Collection by Hilton opens this summer across the road from the famous St Paul's Cathedral. With a historic façade and design focusing on the lost history of London, this new hotel lets you easily explore London's greatest attractions while providing a welcome respite from the buzz of the city.
Take a train to Paris, France
On day four, head to London St. Pancras International station to catch the two-and-a-half-hour train to Paris' Gare du Nord station. There are more than 10 trains running from London to Paris each day, but leave in the morning if you want to arrive in Paris for lunch.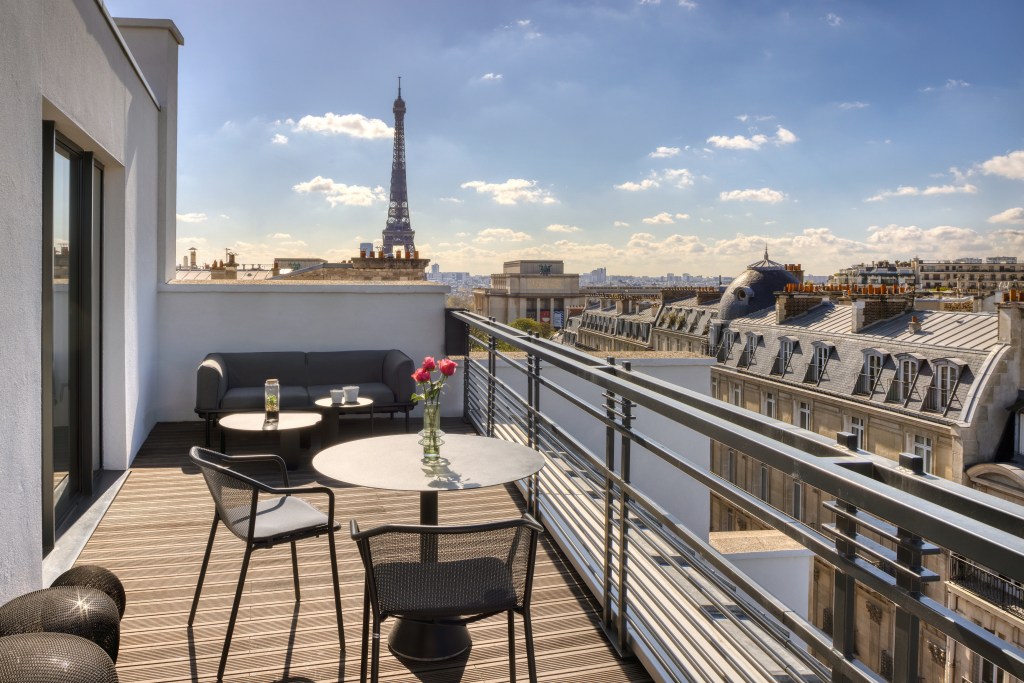 In Paris, visit museums like The Louvre and Centre Pompidou, and marvel at the Panthéon and Basilique du Sacré-Coeur de Montmartre. Sample delicacies like escargot, steak frites and macarons. For an authentic Parisian experience that's close to all the best attractions, book a room at Le Belgrand Hotel Paris Champs Elysees, Tapestry Collection by Hilton. The new hotel features a cozy bar and lounge and landscaped patio garden. If you love the elegant, vibrant vibe of the 16th arrondissement, newly-opened Canopy by Hilton Paris Trocadero was designed by acclaimed interior architect Jean-Philippe Nuel with a mix of period architecture and modern Parisian elegance. The hotel's on-site restaurant L'Esprit Nouveau serves classic seasonal French cuisine, and rooftop lounge Eylau Paris offers a clear view of the Eiffel Tower.
Rome + Sardinia
Start in Rome, Italy
When in Rome, visit the Colosseum's newly opened gladiator tunnels, and take in the architectural splendor of the Pantheon and Trevi Fountain, all of which are just a quick walk away from the Cosmopolita Hotel Rome, Tapestry Collection by Hilton debuting this summer.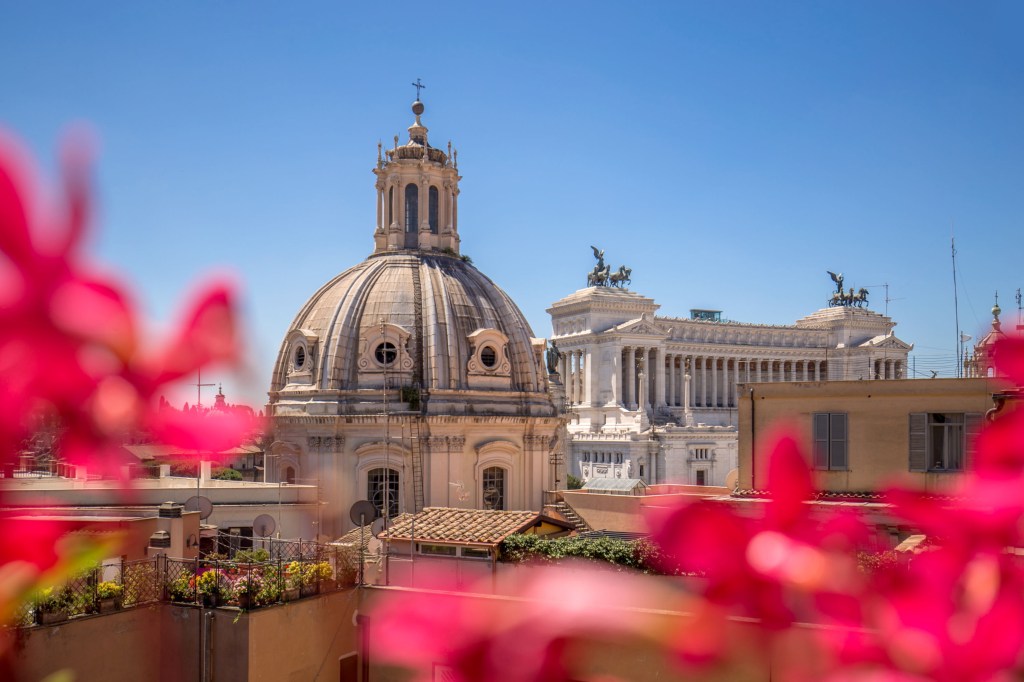 Admire the artwork at Galleria Borghese and MAXXI, or explore the vintage stores and independent boutiques of Trastevere. Sample Roman Jewish fried artichokes and one--or all--of the city's famous pasta dishes. Aleph Rome Hotel, Curio Collection by Hilton is in the heart of the city and features a rooftop pool and bar, and spa with a steam bath and sauna. Visit ONYX Lobby Lounge and Bar to sip a traditional Italian aperitivo or signature Aleph cocktail while munching on salty snacks.
Fly to Cagliari, Italy on the Sardinia island
On day four, catch a short morning flight from Rome to Cagliari Airport in Sardinia. The journey only takes about an hour, so you can experience the cobbled alleys, towering architecture and staggering views of Cagliari's old town and still check into your hotel before the afternoon.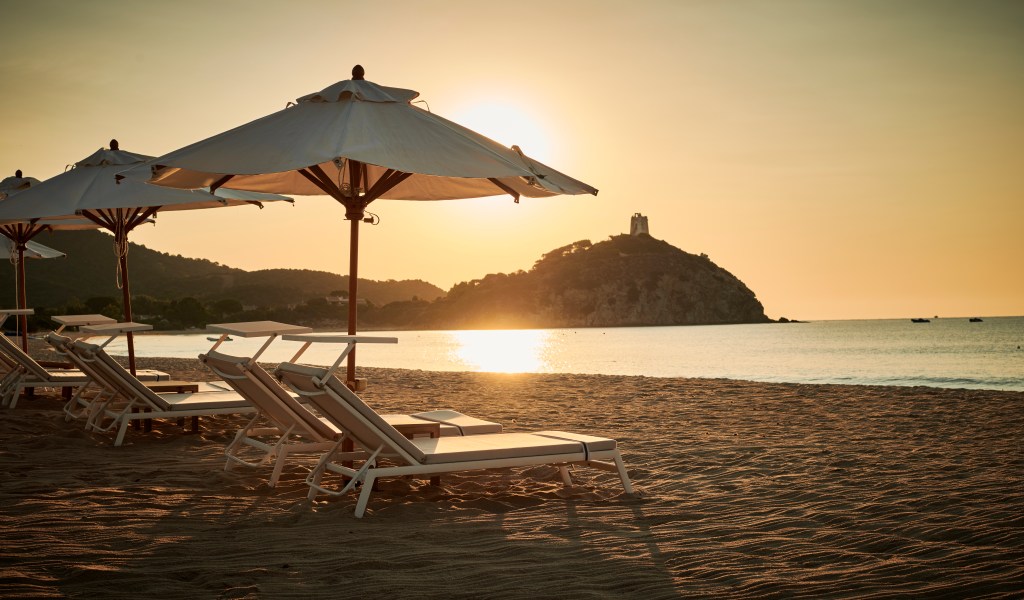 After the bustle and culture of Rome, the stunning coastline and warm Mediterranean waters of Sardinia will help you relax and recharge. Surrounded by natural beauty, Conrad Chia Laguna Sardinia opened this April and is located on the island's south coast, about 45 minutes' drive from the Cagliari Airport. With an extensive spa and restaurants serving both Mediterranean cuisine and international favorites, the luxurious property is nestled between two of Italy's most beautiful beaches, Monte Cogoni and Dune di Campana. If you're lucky, you may see some of the flamingos that have lived on the island's south coast for centuries. 
Madrid + Mallorca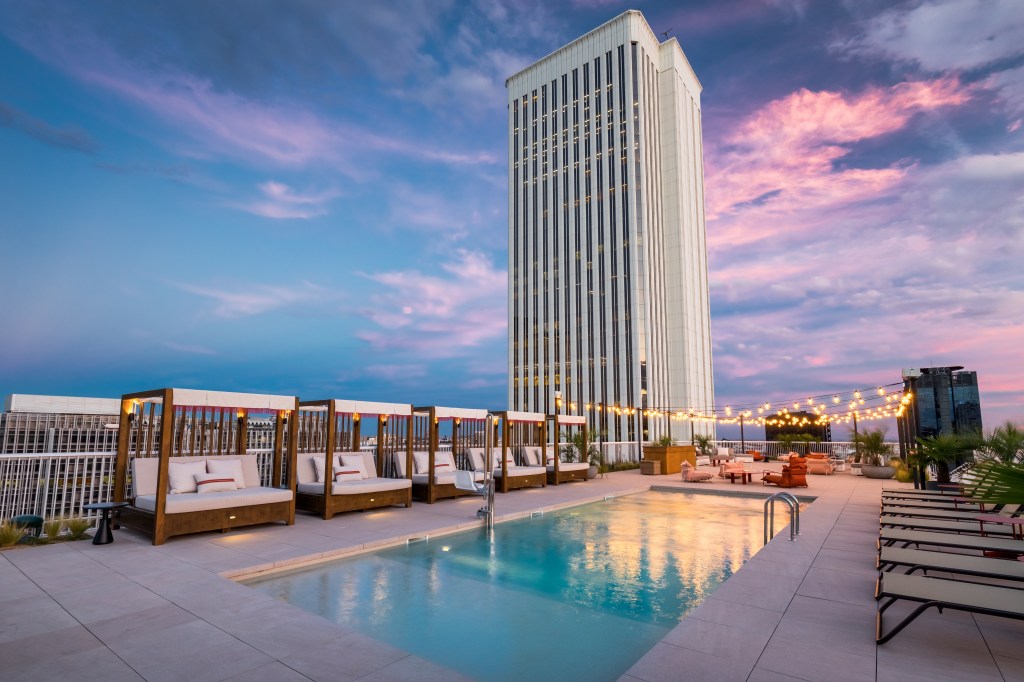 Start in Madrid, Spain
Madrid's Museo Nacional del Prado has one of the best collections in Europe, and Parque de Buen Retiro features activities like boating, trail running and a slapstick puppet theater. Cheer on Real Madrid at Estadio Santiago Bernabéu, which is known for its loyal fans. The city's lively tapas scene offers specialties like jamon iberico and tortilla de patata. Stay at the recently opened Canopy by Hilton Madrid Castellana, which features a stunning design and outdoor pool. Retreat to the terrace for tapas and drinks from food truck Planta Z. To stay within walking distance of museums and other landmarks, book a stay at Atocha Hotel Madrid, Tapestry Collection by Hilton. Its name is inspired by esparto--or atocha grass weaving--a technique traditionally used for basketry in southern Spain, and the property's green décor and rattan furniture is a nod to this heritage. 
Fly to Mallorca in Spain's Balearic Islands
Once you have taken in the city's culture, history and cuisine, you can hop on an 80-minute flight to the crown jewel of Spain's Balearic Islands, Mallorca. With a coastline of secluded coves, long sandy beaches and rugged cliffs, Mallorca is the perfect place to take a break from the city.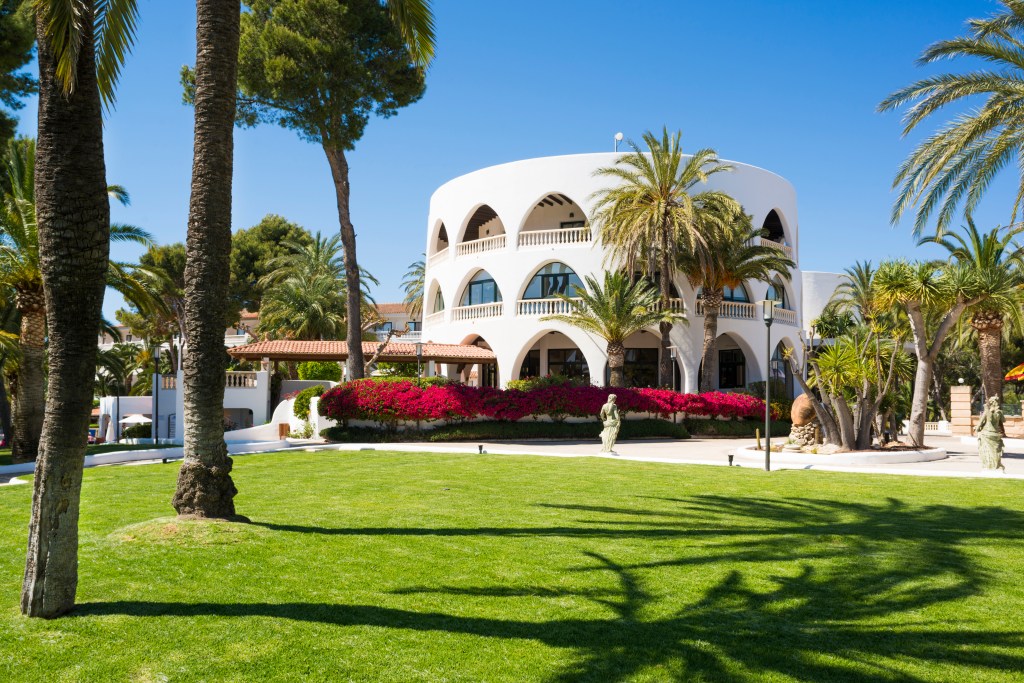 Once in Mallorca, you can fill your day with waterparks, golfing, sea caving adventures, hiking and more. But if you'd prefer to relax by the pool, visit Hilton Mallorca Galatzo, opening this summer on the pristine Costa de la Calma. Set in perfectly presented gardens with three swimming pools, two pool bars, an expansive roof terrace, and indulgent spa and wellness center, Hilton Mallorca Galatzo will be an oasis of calm. Enjoy the fine sand and clear water of Paguera's beaches, which are a quick five-minute taxi from the hotel. 
Lisbon + Porto + Vila Nova de Gaia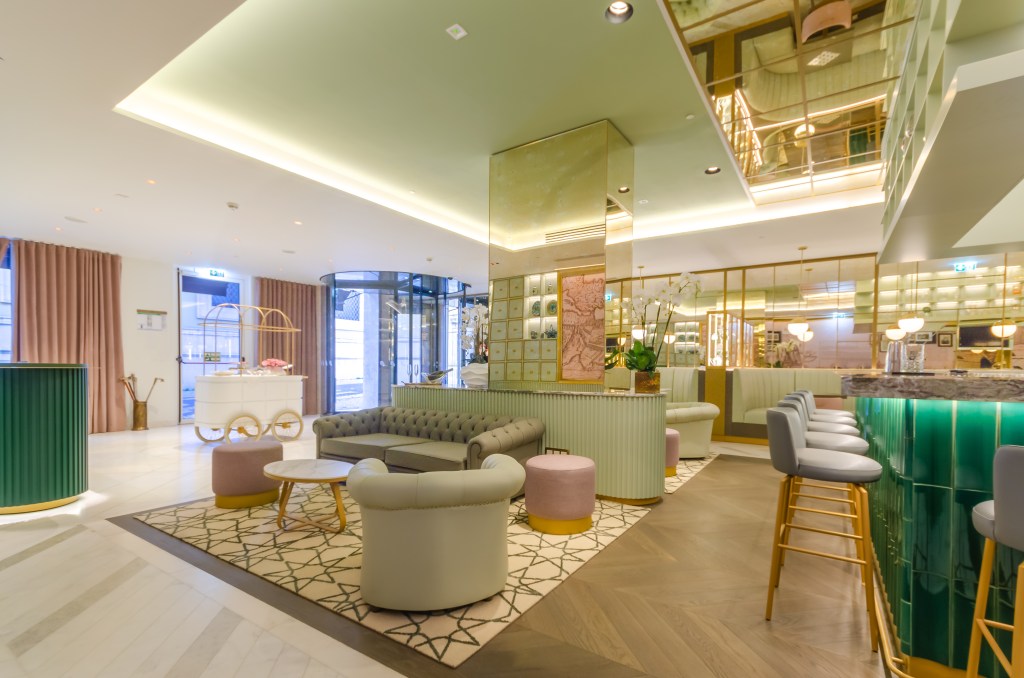 Start in Lisbon, Portugal
When visiting Lisbon, São Jorge Castle, Sé Cathedral and Belém Tower should also be on every architecture-lover's list. Check out modern art at Berardo Museum and decorative tiles at The National Azulejo Museum. Sample bacalhau à brás (codfish with fried potato, onion and scrambled eggs) and pastel de nata (custard tarts). The Emerald House Lisbon, Curio Collection by Hilton opened in January and is steps away from some of the city's top attractions and the Chiado and Baixa historical districts. The 67-room property features a fitness center and on-site restaurant and bar, serving contemporary Portuguese food and drink.
Take a train to Porto, Portugal
Take a high-speed train from Lisbon's Santa Apolóni station to reach Porto in less than three hours. From there, you can reach Vila Nova de Gaia in 10-15 minutes by subway, 5 minutes by taxi or even take a 2-mile walk across the Ponte de Dom Luís I.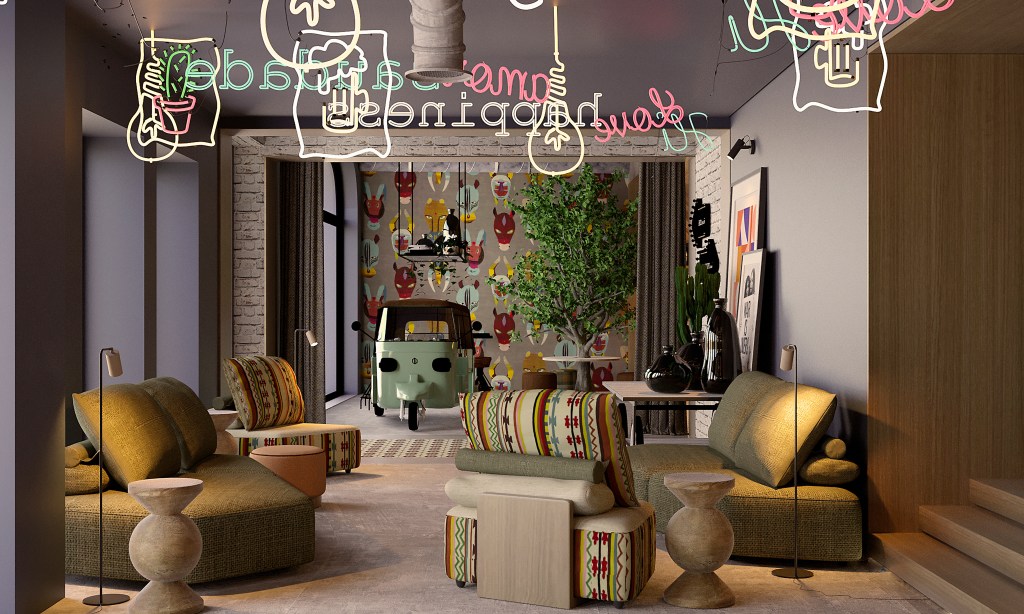 In Porto, climb the 76-meter-high Torre dos Clérigos for great views, and admire the gilded interior of Igreja de São Francisco.
Walk to Vila Nova de Gaia, Portugal (or take a taxi or subway)
Stop by Mercado do Bolhão for picnic ingredients and take them across the river to Jardim do Morro in Vila Nova de Gaia to watch the sunset over Porto. Vila Nova de Gaia is known for its port cellars where you can book a tasting of the fortified wine. Recently opened this year, Se Catedral Hotel Porto, Tapestry Collection by Hilton is a unique property that's close to all the action, and its restaurant and bar offers fabulous views of the city. If you prefer to stay across the river in Vila Nova de Gaia, Boeira Garden Hotel Porto Gaia, Curio Collection by Hilton features indoor and outdoor pools and a spa with thermal bath, sauna and steam room. Enjoy panoramic sunsets from your personal balcony or the Rooftop Sky Lounge and get a taste of modern Portuguese cuisine at Raizes restaurant.