Survey by Hilton Honors and Morning Brew finds business professionals are excited to hit the road again
Business travelers miss traveling for business, according to a recent survey commissioned by Hilton and Morning Brew of more than 7,000 of the news site's business-savvy readers. While some have returned to traveling for work, 87% of respondents say they miss hopping from city to city to pursue their work.
Most of all, business travelers miss visiting new places (66%), discovering local culture (41%), discussing projects in person (37%), and attending in-person conferences (36%). Once business travel is back in full swing, they can't wait to enjoy a comfortable hotel bed (45%) and some much-needed alone time (62%). 
With these insights from Morning Brew readers, Mark Weinstein, Hilton's senior vice president and global head, marketing and loyalty, shares five key takeaways on the future of business travel.
In-person connections matter 
More than half (54%) of those surveyed mentioned that the importance of building "in real life" (IRL) relationships is more apparent than ever. Simply put, during the pandemic, business travelers have missed building professional relationships (54%) with others.
"Humans have an innate need to connect with each other, and the inability to do so during the pandemic highlighted the fact that there's no replacement for the value of in-person connections," said Weinstein. "We know people miss business travel, but even more they miss connecting on a real level with clients, seeing a project up close, networking with colleagues and experiencing a new city."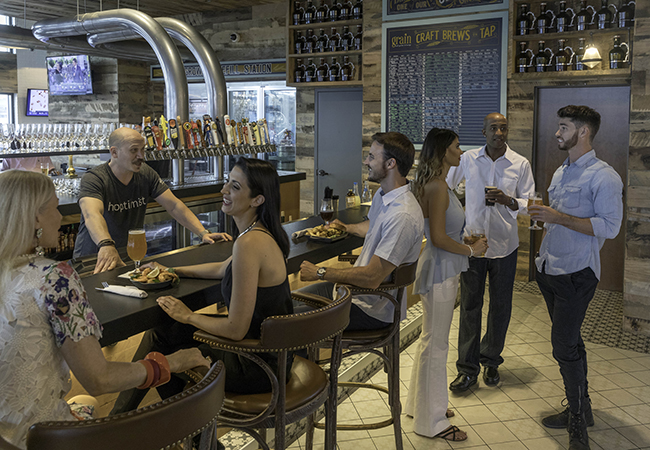 Innovations make business trips more productive
Of those surveyed, 47% said amenities were of utmost importance, and many think hotels will offer more contactless experiences and feature automated and efficient check-in and check-out processes in the future, if they haven't already. 
Another innovation, known as the new version of work from home (WFH), includes offering ideal working spaces with inviting scenery and access to amenities, personalized service, and food and beverages – Work from Hotel. Hilton, for example, offered daytime hotel rooms for locals to increase efficiency in their workday via WorkSpaces by Hilton, and several hotels promoted workcation packages to allow business professionals to stay, work and play for an extended period of time. 
"One of the biggest lessons we've learned during the pandemic is that innovation makes a big impact during good times and bad. We've always had our customers at the heart of everything we do, and the integration of physical and digital innovation is a priority for us," said Weinstein. "For example, prior to the pandemic, we were focused on expanding the features of the Hilton Honors app to improve the guest experience, including Digital Check-In, Digital Key, Digital Check-Out and in-room technology. Having this technology at scale put us in a position to best serve our guests during the toughest of times and into the future."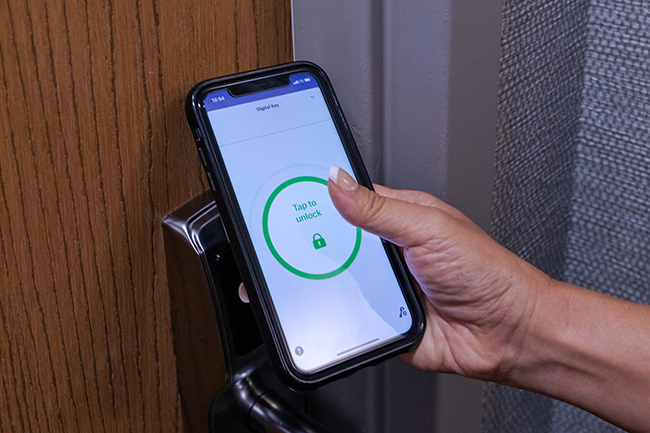 Digital meetings are here to stay 
While many would agree that video call fatigue is real, people aren't turning off their cameras just yet. According to those surveyed, many think business travel will be a mixture of in-person and digital, saying they expect more online meetings and trainings and increased use of hybrid modalities for business events. 
Weinstein noted, "Event planners are increasingly looking for spaces that allow a combination of on-site and expanded on-screen attendees, as well as seeking expert support to help them execute the events. Earlier this year, we introduced a set of Hilton EventReady Hybrid Solutions. This suite of offerings, which will continue to evolve, directs event planners to Hilton's hybrid-ready hotels and provides planning resources like an expanded Hilton EventReady Playbook and flexible customer offers."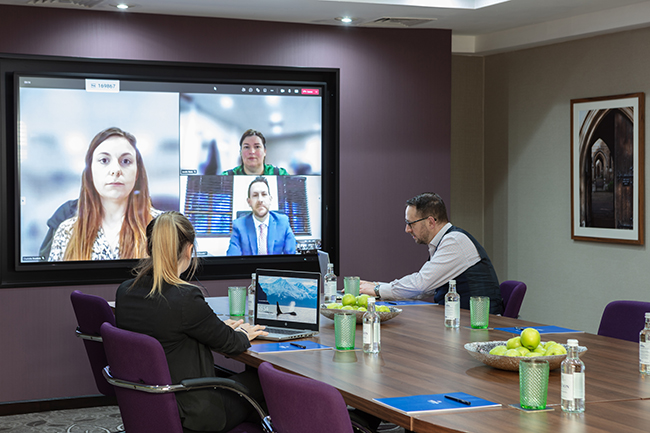 Increased interest in "bleisure" travel 
"Bleisure" travel, a popular practice pre-pandemic, is an economical way to explore a new city or locale, especially when an employer has already paid for transportation. Many travelers like to extend their stay into the weekend and invite a friend or partner to join them for the leisure portion of the trip, or taking advantage of alone time and explore a city solo. According to the survey, this includes things like eating at local restaurants (63%) and exploring the city (61%). 
"Given the increased ability to work from anywhere and the emphasis on overall personal wellness and a work-life balance that employees yearn for, business travelers will seek these moments to blend personal and professional trips," commented Weinstein. 
Even if business travelers aren't tacking personal travel onto work trips, they're looking forward to taking advantage of the points and rewards earned for future, non-business-related jaunts. Seventy-eight percent of respondents said that the points and rewards earned from business travel are a huge selling point of taking those trips. They also look forward to taking advantage of loyalty program benefits and perks including room upgrades (68%), free Wi-Fi (51%) and earning free night rewards (47%). 
According to Weinstein, "As the travel landscape continues to change, guests can expect to see hotel loyalty programs evolve to offer new ways to provide members with flexibility and value before, during and after their stays, like extending point expiration dates and rolling out more flexible policies for 2021 and 2022. There will also be opportunities to innovate in the digital realm as it relates to delivering program offerings and benefits, as well as personalizing member engagement."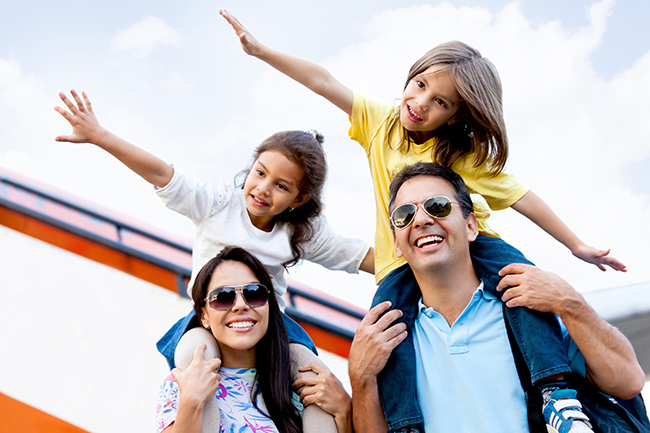 Wellness is top of mind more than ever 
While the pandemic brought several challenges, many believed that some aspects of life improved under lockdown. From Shanghai to New York, people started to cook more meals at home and dramatically adjust their daily exercise routines. Now more than ever, wellness is top of mind, and business travelers will be more cognizant of it on the go.
In fact, 42% can't wait to partake in some much-needed alone time and 31% look for hotels with spas and wellness centers to maintain their wellness routines. 
"Post-pandemic, many people are going to be focused on living healthier, even while traveling for business. And, while reconnection is so important, we've also learned that people enjoy their precious alone time and a comfortable bed that makes those 'me moments' possible," said Weinstein. "By offering comfortable suites for guests to recharge, healthy and locally sourced F&B options, and programs like Hilton's Five Feet to Fitness, which offers a fully equipped workout space just five feet from the bed, business travelers do not have to miss a beat when it comes to their physical and mental wellness."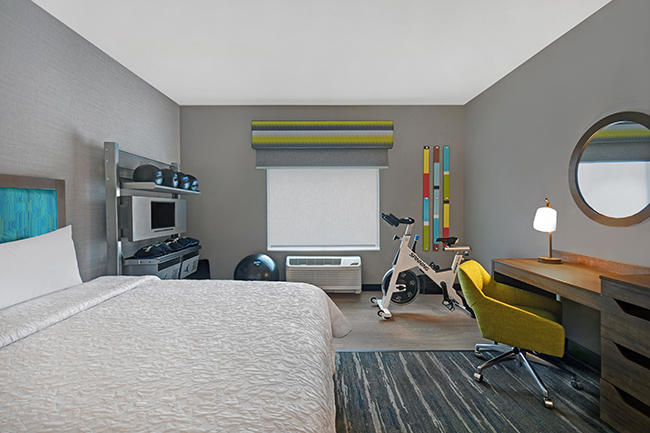 Final takes
As travel recovers, respondents hypothesized that while business travel may be less frequent in the immediate future, it will be more strategic and purposeful overall. Opportunities to travel become more meaningful and businesses are using those moments more intentionally – it will be quality over quantity when prioritizing in-person meetings. 
According to Weinstein, "The pandemic has pushed companies like Hilton to constantly evolve and innovate to meet both the functional and emotional needs of people today and the future."
In a nutshell, business travel is here to stay—and business travelers really want it too.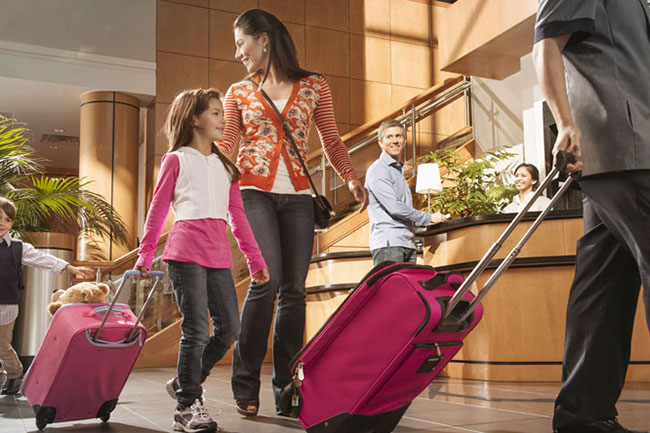 ---
About Hilton
Hilton (NYSE: HLT) is a leading global hospitality company with a portfolio of 22 world-class brands comprising nearly 7,300 properties and more than 1.1 million rooms, in 123 countries and territories. Dedicated to fulfilling its founding vision to fill the earth with the light and warmth of hospitality, Hilton has welcomed more than 3 billion guests in its more than 100-year history, earned a top spot on Fortune's 100 Best Companies to Work For list and been recognized as a global leader on the Dow Jones Sustainability Indices for six consecutive years. Hilton has introduced several industry-leading technology enhancements to improve the guest experience, including Digital Key Share, automated complimentary room upgrades and the ability to book confirmed connecting rooms. Through the award-winning guest loyalty program Hilton Honors, the more than 165 million members who book directly with Hilton can earn Points for hotel stays and experiences money can't buy. With the free Hilton Honors app, guests can book their stay, select their room, check in, unlock their door with a Digital Key and check out, all from their smartphone. Visit stories.hilton.com for more information, and connect with Hilton on Facebook, Twitter, LinkedIn, Instagram and YouTube.
---
About Hilton Honors
Hilton Honors is the award-winning guest loyalty program for Hilton's world-class brands comprising nearly 7,300 properties in 123 countries and territories. Hilton Honors members who book directly through preferred Hilton channels have access to instant benefits, including a flexible payment slider that allows members to choose nearly any combination of Points and money to book a stay, an exclusive member discount and free standard Wi-Fi. Members also have access to contactless technology exclusively through the industry-leading Hilton Honors app, where members can check in, choose and access their room using Digital Key. Hilton Honors offers its more than 165 million members hundreds of ways to earn and redeem Points, including with select co-branded credit cards. Members can redeem Points for free nights, purchases on Amazon, exclusive experiences, charitable contributions and more. The program is free to join and travelers can enroll online at hiltonhonors.com. Learn more about Hilton Honors at stories.hilton.com/hiltonhonors, and follow Hilton Honors on Facebook, Twitter and Instagram.