Oceanside luxury resort offers a secluded escape with world‑class dining and a destination spa
CANCUN – Hilton (NYSE: HLT) announced today the highly anticipated opening of Waldorf Astoria Cancun, the 173-room luxury resort set among the verdant mangroves of the Yucatan Peninsula, offering panoramic ocean views, world-class dining, and destination-worthy wellness offerings. The opening of Waldorf Astoria Cancun marks the 200th hotel in the Caribbean and Latin America for Hilton, as well as the first Waldorf Astoria hotel in the Mexican Caribbean and second in the country.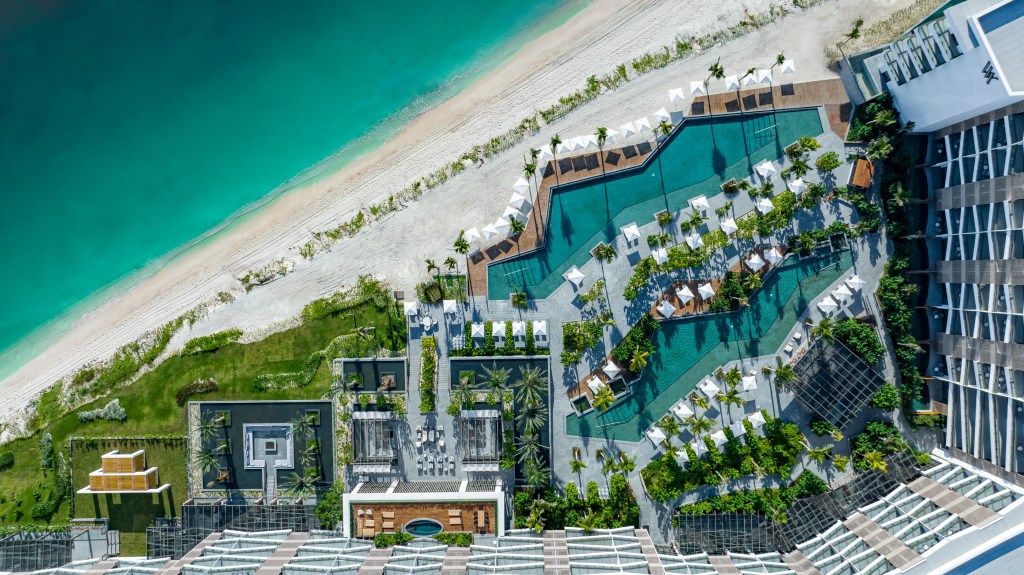 "The opening of the newly built Waldorf Astoria Cancun marks an important milestone for Hilton, as we continue our rapid expansion in Mexico," said Danny Hughes, executive vice president and president, Americas, Hilton.  "Over the past year, we've landed in the Yucatan Peninsula in a big way, with six new hotels from Tulum to Cancun and are thrilled to have done so with incredible owners and team members in one of the most sought-after destinations." 
Managed by Hilton and owned by PHH ("Parks Hospitality Holdings"), Waldorf Astoria Cancun is a secluded oceanfront paradise, located just 10 miles from the airport. The property is situated on 100 acres of Mayan coastline 19 miles south of Cancun's popular Hotel Zone and north of Riviera Maya. Behind a mangrove nature preserve, on a secluded stretch of beach, the luxury hotel offers the perfect blend of Mexican heritage and modern sophistication with an abundance of choices to create an ideal getaway. 
"Building on the success of our Waldorf Astoria Hotels & Resorts property on the Pacific coast of Mexico, we're thrilled to now introduce the brand to the Mexican Caribbean."
"Building on the success of our Waldorf Astoria Hotels & Resorts property on the Pacific coast of Mexico, we're thrilled to now introduce the brand to the Mexican Caribbean," said Matt Schuyler, chief brand officer, Hilton. "By bringing luxury hotels to such highly desirable destinations in Mexico, we continue to evolve our offerings to better serve our guests with culinary excellence, elevated wellness experiences, and one-of-a-kind stays."
"We are honored and excited to extend our successful partnership with Hilton with the opening of Waldorf Astoria Cancun. We believe Mexico's unique combination of people, culture, gastronomy and natural wonders make it the best global destination for tourism," said Charles El Mann Fasja, developer of Waldorf Astoria Cancun and Parks Hospitality Holdings CEO.  "We are committed to developing hotels of the future while also sourcing locally, building sustainably and honoring our country's craftsmanship, which is what truly sets us apart."
MEANINGFUL DESIGN
Envisioned by world-renowned hospitality design firm, Hirsch Bedner Associates (HBA), the resort's interiors offer a unique interpretation of Cancun's natural wonders, creating an other-worldly sense of place where every element feels symbolic, every design tells a story, and every space has meaning. Textured glass, inlaid pearl shell accents, metal trim, cove lighting, and illuminated crystal are among the details creating a refined luxury haven. A connection to nature is drawn through modern lines, repetitive patterns, and undulating forms that mimic the sea.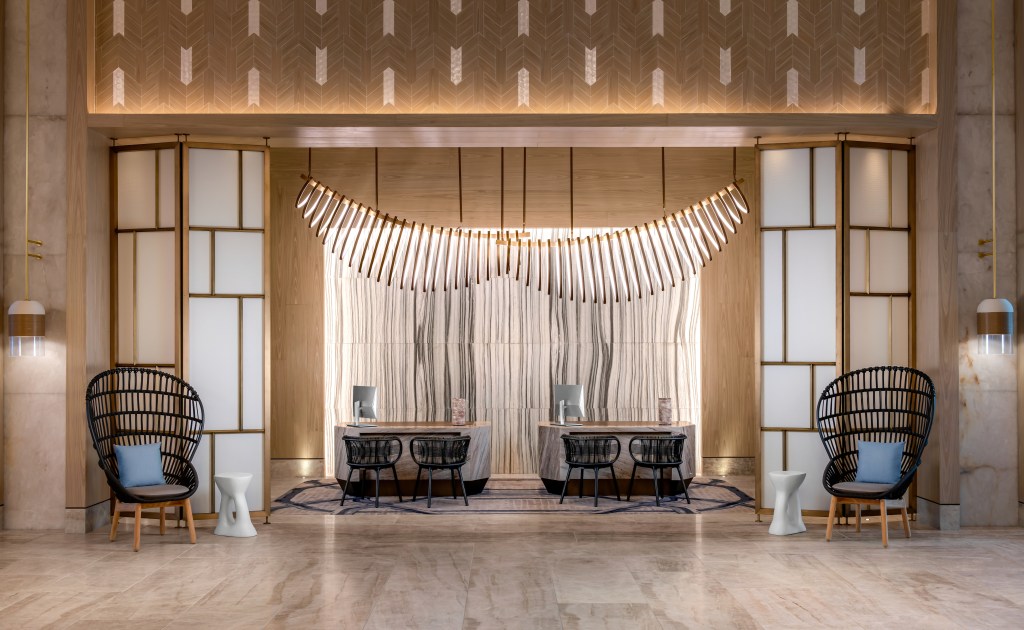 Among standout details is the signature Waldorf Astoria Clock, paying homage to the landmark and centerpiece of the lobby at Waldorf Astoria New York. The tradition continues at Waldorf Astoria Cancun, with the clock, designed by HBA and created by Smith of Derby, serving as a focal point and meeting place for guests.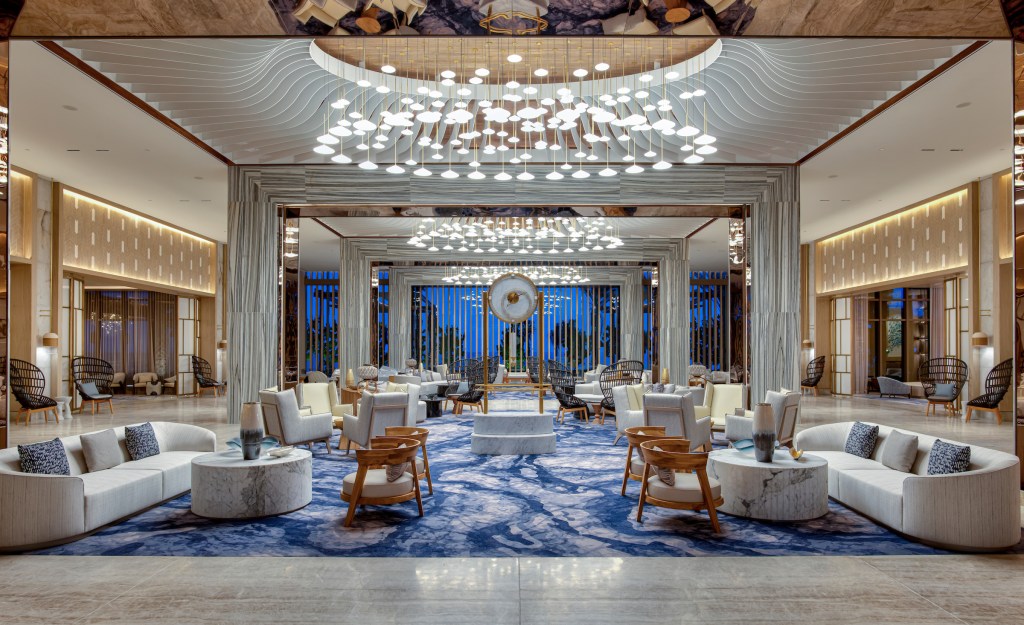 EXQUISITE ACCOMMODATIONS
The 173 luxurious rooms and suites combine elegance and refinement with privacy and comfort, featuring private balconies with soaking tubs and breathtaking ocean views. 
Inspired by the dramatic shadows cast by abundant local flora, the guest room palette is fresh, calming and neutral, layered with supple textures and accented with warm metal tones and glowing light features. Upon entering the room, guests are greeted immediately with an elegant art screen, filtering the natural light and vibrant hues of the ocean while also providing an element of privacy to the sleeping area beyond. A welcoming seating area features a rounded sofa reminiscent of the lobby design, and a plush area rug with a calming blue color palate. The bathroom spans the entire length of the room allowing ample natural light to flood the space, which is defined by a dramatic wet vanity standing prominently in front of a blue ombre mosaic wall. Artwork by Victoria Villasana explores the delicate detailing of coral. Surrounded by large book-matched marble slabs, guests can enjoy the rain shower while resting on a natural wood stool and soaking in the world-class view through floor-to-ceiling windows.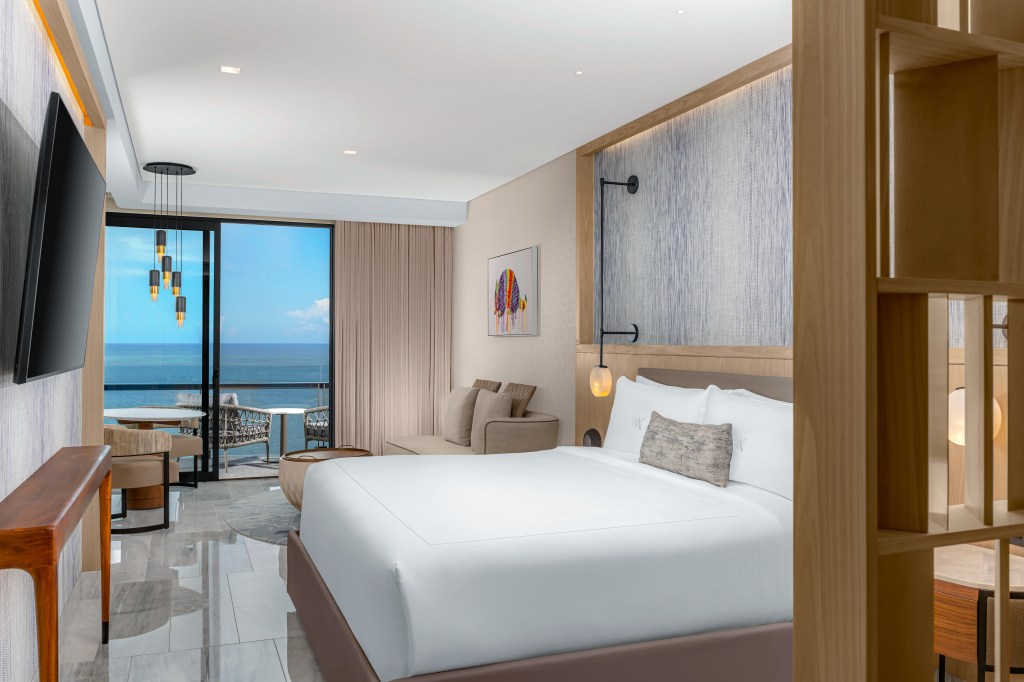 Perfect for larger groups, the property's 34 suites feature ample entertainment spaces including a living area, dining table, and connecting guest rooms, while the oceanfront one-bedroom presidential suite offers a dining area with seating for ten, a pool table, a library and screening room perfect for relaxing, with multiple balconies and two plunge pools. A selection of nine guest rooms and one of the suites also feature unique swim-up patios allowing guests direct access to a private outdoor swimming pool.  
CULINARY BOUNTY
With menus crafted by consummate connoisseurs, guests can indulge and imbibe in a wide variety of dining options across five food and beverage venues. From the chic Peacock Alley Lounge to signature restaurant Malpeque, Waldorf Astoria Cancun has refined dining experiences that span from light fare to expertly prepared regional and global dishes that showcase premier local ingredients.
Malpeque: The resort's signature restaurant centers on a regal open-flame grill, celebrating the beauty of the sea and the power of fire while showcasing bountiful raw bar presentations. Dedicated to the delicate art of seafood preparation, the entire experience is grounded by an energetic open kitchen where each dish incorporates an element of smoke, char or fire – some subtle, others more overt. Standout dishes from Executive Chef Stuart Roger include ensenada baked scallop in the shell served with a chipotle-vermouth sauce and puff pastry casing, made with seasonally harvested ingredients.  
Chaya: The hotel's all-day brasserie offers a relaxed, comfortable and revitalizing breakfast and later showcases the beauty of hyper-seasonal ingredients, unique products, and small-scale producers with dishes such as Meyer Lemon Tagliatelle with Black Pepper and Parmesan.    
Pool Bar: Perfect for poolside dining, Waldorf Astoria Cancun's pool bar serves health-forward, light and flavorful dishes. Inventive cocktails and pressed juices feature fresh fruits, herbs and citrus.
WELLNESS HAVEN
Waldorf Astoria Spa offers a serene destination for holistic well-being. With more than 40,000 square feet, the spa features 21 indoor and outdoor treatment rooms, a salon, sauna, extensive thermal area, outdoor spa pool and garden, and exquisite relaxation lounges. The spa design is defined by an indoor-outdoor connection, with a lobby space featuring a circular sunken lounge area leading out to a lush outdoor landscape. 
Combining innovation with the tradition of the Mayan culture, a locally driven spa menu integrates a holistic approach to healing that focuses on both the spiritual and physical aspects of well-being, with a deep understanding of their interconnection. A spiritual menu offers a selection of ancestral ceremonies and therapies based on Mayan traditions carried out by the resort's Shaman.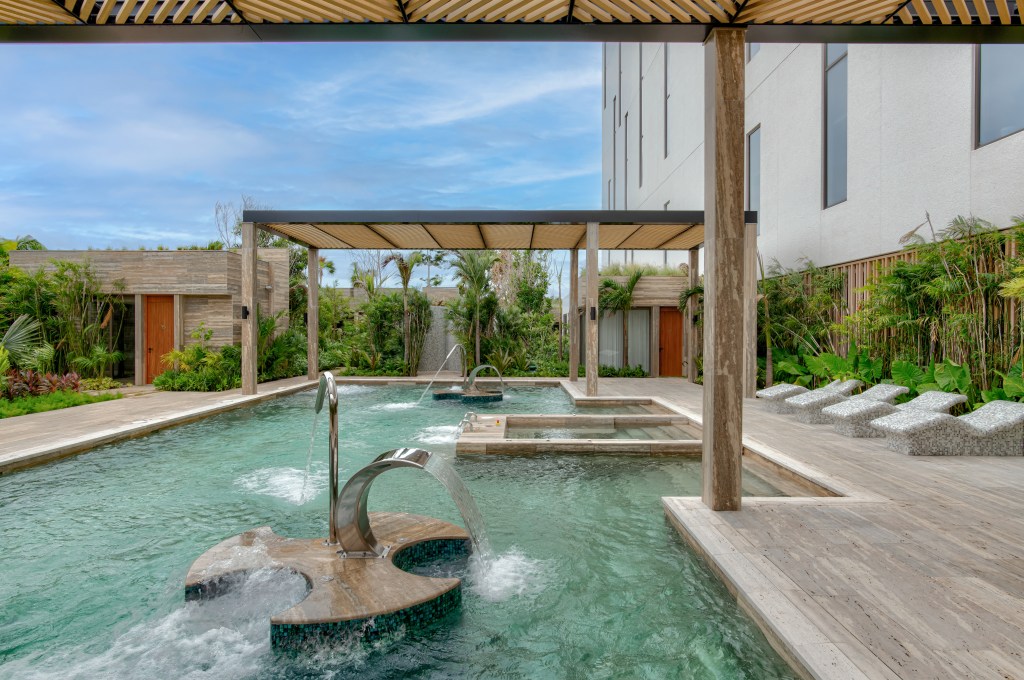 MEETINGS & EVENTS
With its location convenient to Cancun International Airport, Waldorf Astoria Cancun combines easy access with peace and seclusion. The resort features 68,000+ square feet of indoor and outdoor meeting space shared with Hilton Cancun, an All-Inclusive Resort, including a main and junior ballroom and 12 meeting spaces that span over two floors. Spaces such as the Azul Ballroom can accommodate events and parties of 60 to over 2,000 and for smaller intimate gatherings the Waldorf Astoria Ballroom offers space for 30 to 380 attendees.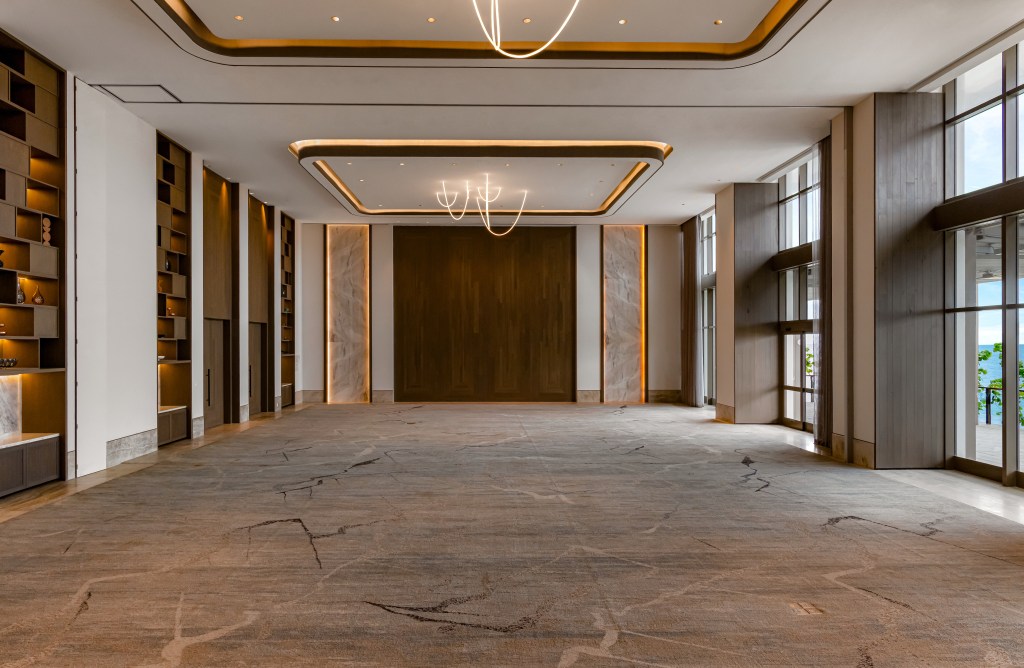 Waldorf Astoria Cancun participates in Hilton Honors, the award-winning guest loyalty program for Hilton's 18 distinct hotel brands. Members who book directly have access to instant benefits, including a flexible payment slider that allows members to choose nearly any combination of Points and money to book a stay, exclusive member discounts, free standard Wi-Fi, and access to the Hilton Honors mobile app.
For more information and reservations, please visit Hilton.com/waldorf-astoria-cancun or follow the hotel on Instagram at @WaldorfAstoriaCancun.
---
About Hilton
Hilton (NYSE: HLT) is a leading global hospitality company with a portfolio of 22 world-class brands comprising nearly 7,400 properties and more than 1.1 million rooms, in 124 countries and territories. Dedicated to fulfilling its founding vision to fill the earth with the light and warmth of hospitality, Hilton has welcomed more than 3 billion guests in its more than 100-year history, earned a top spot on Fortune's 100 Best Companies to Work For list and been recognized as a global leader on the Dow Jones Sustainability Indices for six consecutive years. Hilton has introduced several industry-leading technology enhancements to improve the guest experience, including Digital Key Share, automated complimentary room upgrades and the ability to book confirmed connecting rooms. Through the award-winning guest loyalty program Hilton Honors, the more than 173 million members who book directly with Hilton can earn Points for hotel stays and experiences money can't buy. With the free Hilton Honors app, guests can book their stay, select their room, check in, unlock their door with a Digital Key and check out, all from their smartphone. Visit stories.hilton.com for more information, and connect with Hilton on Facebook, Twitter, LinkedIn, Instagram and YouTube.
---
About Waldorf Astoria Hotels & Resorts
Waldorf Astoria Hotels & Resorts is a portfolio of more than 30 iconic properties that creates a unique sense of place with a relentless commitment to elegant service, one-of-a-kind experiences and culinary expertise in landmark destinations around the world. Inspired by their timeless environments and sincerely elegant service, Waldorf Astoria hotels deliver an effortless experience seamlessly, creating a true sense of place for guests through stunning architecture, Peacock Alley, refined art collections, Michelin-starred dining concepts and elevated in-room amenities. In addition to the brand's world-class hotel offerings, Waldorf Astoria boasts a global residential portfolio that provides the comfort of a private home combined with unsurpassed amenities and high-touch service. Waldorf Astoria is part of Hilton, a leading global hospitality company. Experience an unforgettable stay at Waldorf Astoria Hotels & Resorts by booking at waldorfastoria.com or through the industry-leading Hilton Honors app. Hilton Honors members who book directly through preferred Hilton channels have access to instant benefits. Learn more about Waldorf Astoria Hotels & Resorts at stories.hilton.com/waldorfastoria, and follow the brand on Twitter, Instagram and Facebook.
---
About Parks Hospitality Holdings
PHH ("Parks Hospitality Holdings") was founded in 2006 as a division of Parks to develop, build, acquire, and operate hotels primarily in Mexico's getaway cities and major tourism markets.
Since its inception, PHH has developed +10,000 keys including +3,000 keys in resorts, and +2,000 in full-service hotels and currently operates +8,000 keys including select-service hotels.
PHH currently focuses on development of best-in-class resorts in Cancun, Riviera Maya, and Cabos, and acquisitions of hotels in the U.S. Some of its Hotels Developments include Hilton and Waldorf Astoria Cancun, Conrad and Hilton Tulum, Hilton Vallarta Riviera, Hilton Santa Fe, Hilton Guadalajara Midtown, Canopy by Hilton Cancun, Hilton Monterrey, and many others under different brands such as Grand Hyatt, Hilton Garden Inn, Hampton Inn by Hilton, Fiesta Inn, One and City Express.