Whether you've been doing Chaturangas for decades or are just beginning to understand the benefits of a routine practice, the benefits of yoga are tried and true, especially when traveling to a new destination. A yoga class can stretch muscles and get the blood circulating after a long flight, and it can also help relax the body for a more restful stay. 
If you're looking for a place to celebrate International Yoga Day on June 21 or simply want the practice to be a part of your next getaway, these Hilton properties offer everything you'll need – from group aerial yoga to private instruction in the comfort of your own villa.
Conrad Chia Laguna Sardinia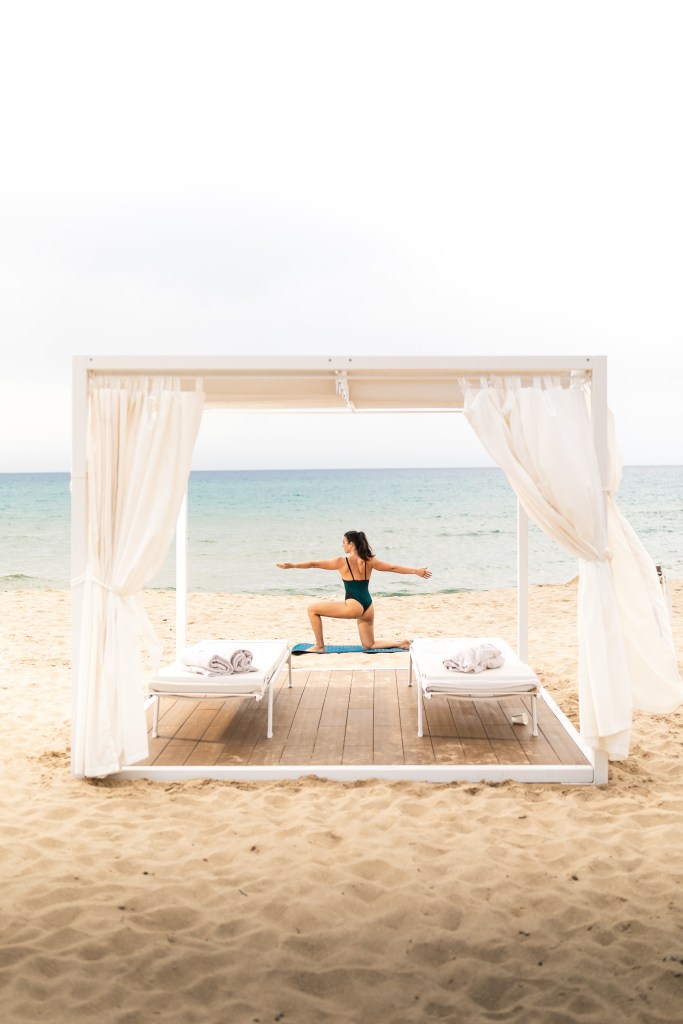 To kick off a day of lounging on dreamy beaches and sampling the freshest seafood, guests of Conrad Chia Laguna Sardinia can book a private yoga session. The hotel team will organize the important details—all you have to do is choose between a class on the beach or on the rooftop, which offers unobstructed views of Chia Bay. Retreat to the Conrad Spa's massage pool or Turkish bath to let the effects of your practice sink in.
ICYMI: Conrad Hotels & Resorts Debuts on the Sardinian Coast
Conrad Koh Samui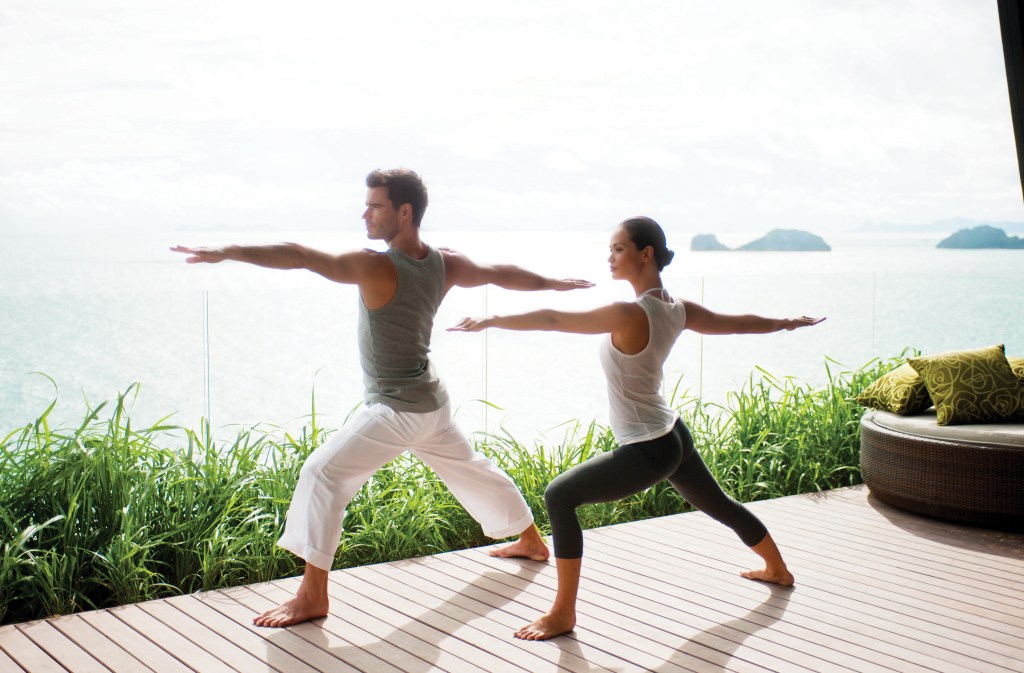 Early risers can reap the benefits of an idyllic morning yoga session at Thailand's striking Conrad Koh Samui resort. The property has three dedicated yoga instructors, who teach complimentary classes every Monday, Wednesday, Friday and Sunday from 7:30 – 8:30 a.m. Sessions are held on the beach wooden deck, so you can take in the sights and sounds of nature while moving through Sun Salutations. Individual lessons are also available and can be enjoyed on the beach deck or in the privacy of your own pool villa.
Conrad Bali
A tropical paradise awaits at Conrad Bali, where guests can participate in yoga sessions at the beautiful beachfront Water Garden. Classes begin with a meditation, and each one is tailored to suit all levels of yogis, but private sessions are also available if you're seeking one-on-one instruction. To deepen your practice, book a Tantra yoga session with guru Ida Bagus Agung Surya Kusuma at the resort's Jiwa Spa, which can help with self-healing and reflection.
Hilton Garden Inn Cusco
Whether you're heading to Machu Picchu or are simply taking in the sights of Cusco and the surrounding Peruvian Andes, Hilton Garden Inn Cusco is near all the iconic and historic attractions. After taking in the sweeping views of the city from the hotel's hilltop location, head to the Colonial-style courtyard for a group yoga session. If you'd rather book a private lesson, one-on-one yoga is available in the property's Muya room.
Hilton Okinawa Sesoko Resort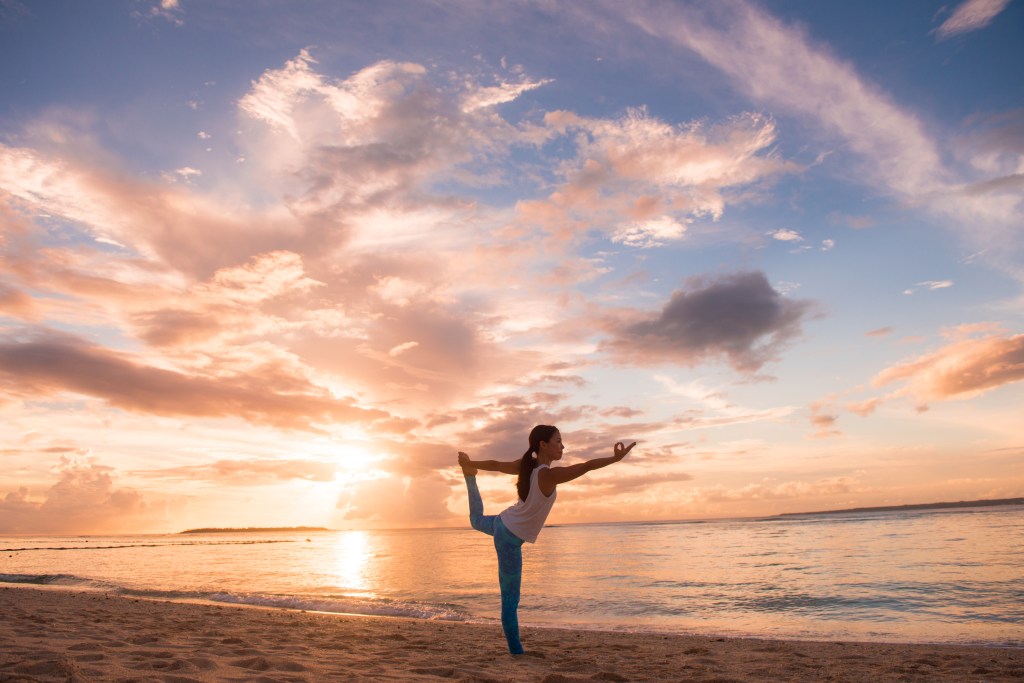 Turquoise waters await at Hilton Okinawa Sesoko Resort, where you can relish in the scenery on your private balcony or while sitting next to the outdoor pool. Yogis who want to dig their toes in the sand can wake early for sunrise yoga or end the day with a sunset session on the 800-meter-long Sesoko Beach. Besides views of the horizon and other Okinawan islands, the sunset class offers a stunning glimpse of the fiery sky.
ROKU KYOTO, LXR Hotels & Resorts
Greet the morning with a yoga session in your private garden at ROKU KYOTO, LXR Hotels & Resorts, and head to the pool for a zero-gravity Floating Meditation. Relax as an instructor stretches your body in the pool using the buoyancy of water, which can help stimulate blood circulation for regulating autonomic nerves to dissipate the tension from your body. Close your eyes and allow the deep meditation to sink in before starting your day, or use it as a way to wind down in the evening.
Royal Palm Galapagos, Curio Collection by Hilton
Opening this summer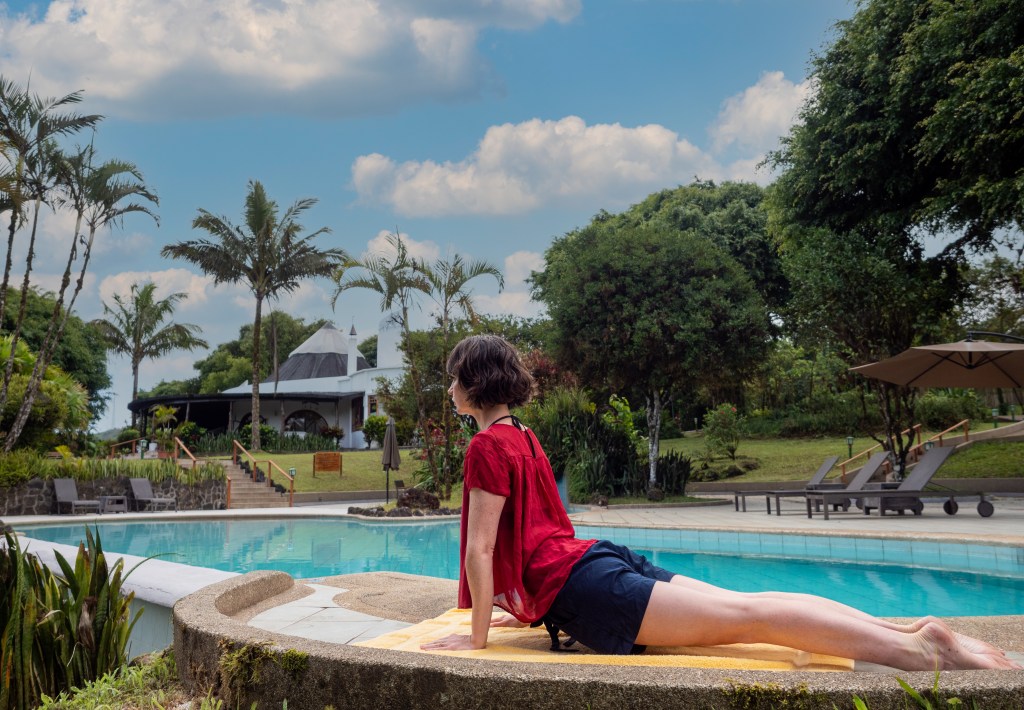 Nestled in the lush Miconia Highland Forests, Royal Palm Galapagos, Curio Collection by Hilton is a tranquil locale that's ideal for honing your yoga skills amidst pristine nature. Practice Crow on the beach at Tortuga Bay among Marine Iguanas, or wander the 160-hectare estate to find a peaceful place where you can feel at one with the destination. For a truly immersive experience, the property's lava tunnels also make for a once-in-a-lifetime yoga location offering yogis a glimpse of the incredible forces that created the archipelago. While guests are welcome to do yoga on their own time, an instructor can be arranged for an additional cost.
ICYMI: Hilton to Debut on Galapagos Island with Signing of Royal Palm Galapagos, Curio Collection by Hilton
Susona Bodrum, LXR Hotels & Resorts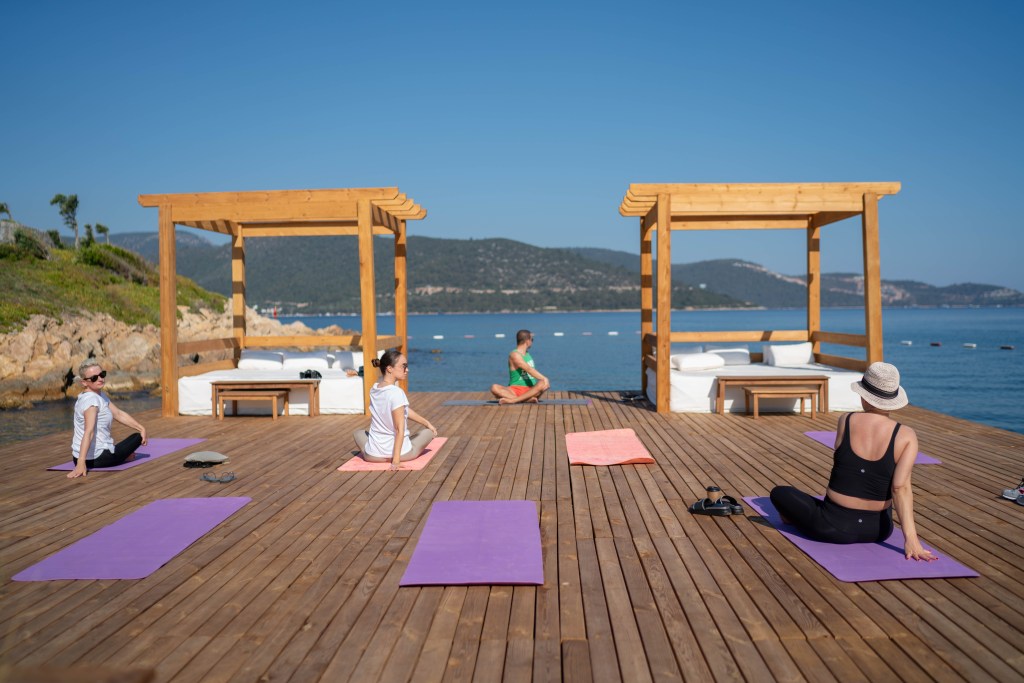 The peaceful and picturesque Aegean Sea awaits at Susona Bodrum, LXR Hotels & Resorts, where you can take in the salty surroundings during an open-air yoga session. Classes are held at 9 a.m. and 6:30 p.m. every Friday, Saturday and Sunday in locations like the beach, Talay Garden Lounge and Frankie Beach Club jetties. After class, replenish and hydrate with complimentary water, tea and fresh juices. Guests can also check out full moon yoga and meditation sessions, as well as private yoga instruction.
Waldorf Astoria Monarch Beach Resort & Club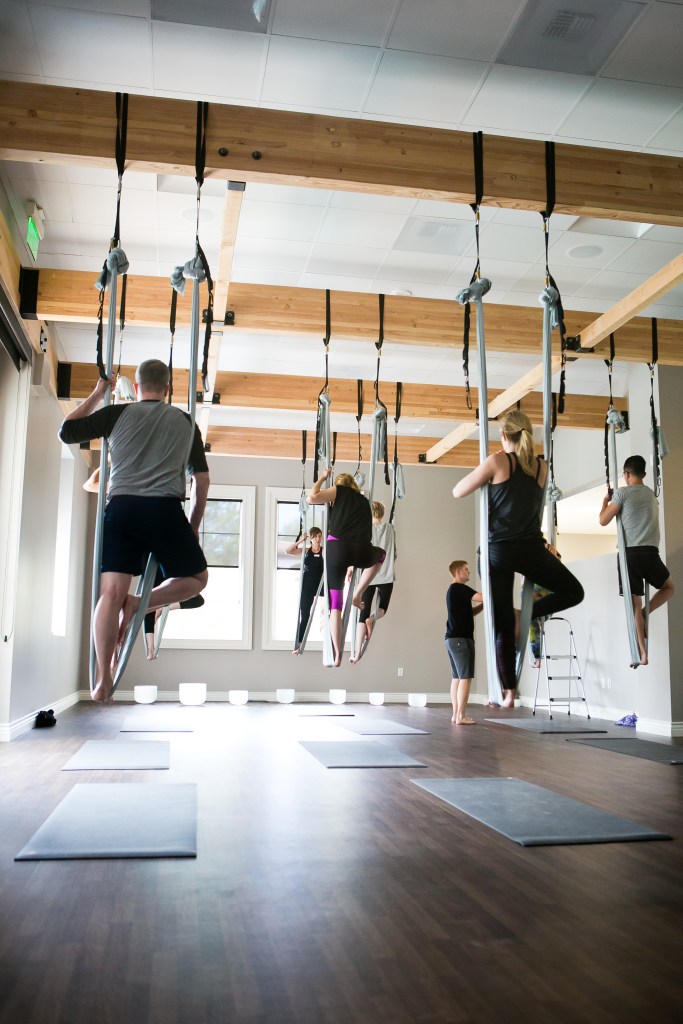 Yogis have the chance to take their practice to the next level at Waldorf Astoria Monarch Beach Resort & Club. The luxe California property offers aerial yoga, where guests climb into their own personal "silk" and move through different poses to stretch and strengthen muscles while enjoying peaceful meditation as the silks rock like a hammock. Yoga instructor Alex Durham is also a reiki therapist who likes to incorporate singing bowls into the aerial classes to deepen relaxation. If you'd rather stay grounded during your practice, the resort offers Vinyasa Yoga, Gentle Yoga, Beach Yoga and Yin Yoga, too.
Conrad Maldives Rangali Island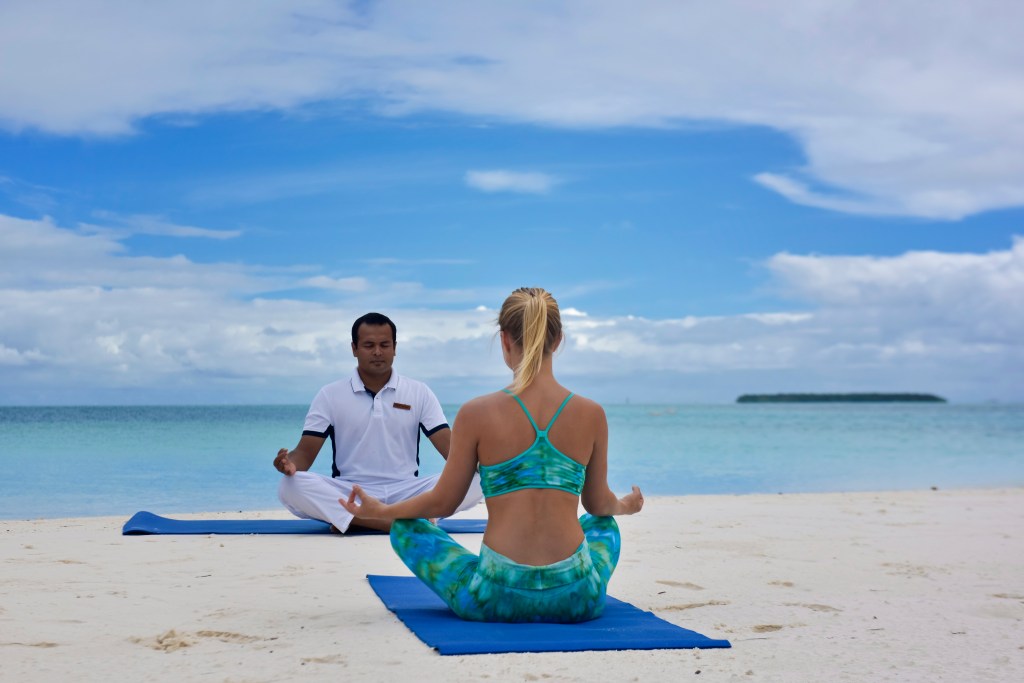 Step out of your over water villa and into an open-air yoga class at Conrad Maldives Rangali Island. Breathtaking views of the Indian Ocean will surround you as you settle into Goddess pose under the instruction of Manesh, who has been teaching yoga for more than a decade. Hear the soothing waves and feel the gentle breeze during a sunrise or sunset session, or book a private class if you want to practice in a more private setting.