Italians are set to travel more in 2024, guided by the discovery of new places (86%) and looking for a one-of-a-kind events (40%)
Italians plan ahead: Almost half (48%) plan their holidays two to six months in advance of travel
Solo travel is a growing trend: six Italians out of 10 are considering travelling alone in the next three years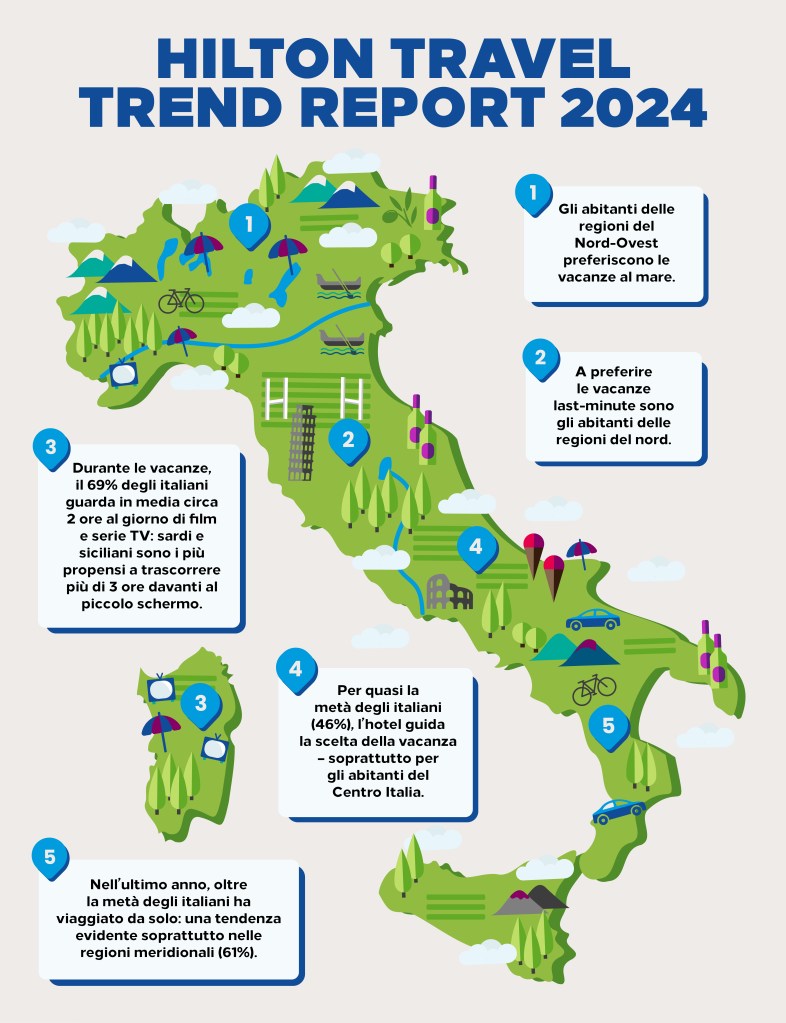 ROME, Italy, and MCLEAN, Va - Italians are planning more travel in 2024, looking ahead to exploring new destinations and experiences and being open to going solo. The research comes as Hilton releases its 2024 Trends Report - a global study unpacking how traveller behaviours and interests are changing, highlighting the main trends in the country and the differences among regions.
THE GROWING TREND OF SOLO TRAVEL
In the past year, more than half of Italians (56%) have travelled alone and this is expected to grow in the next years. Six Italians out of 10, in fact, confirmed they are expecting to take a solo trip by 2026.
This trend particularly reflects the autonomy that the youngest generations are looking for: people aged 18-24 are the most likely to take a solo trip in the next three years (83%). The drivers to travelling alone are self-discovery (44%) and independence (38%).
PLANNING AHEAD
Italians are thinking about their holidays in advance, with 48% planning their trips two to six months before departure. And almost four Italians out of 10 (38%) say they're planning their vacations further ahead than they were five years ago.
And 13% of Italians organize their whole year of holidays in January - a trend particularly popular among the southern regions and the islands (36%).
However 14% of Italians are keen to find a last-minute deal, planning their holidays just one month before they depart. 
DESTINATION IS EVERYTHING
When it comes to choosing the next place to go on holiday, Italians are prioritising 'bucket list' destinations that they have always wanted to visit (72%) together with new experiences such as discovering a different culture (58%) and trying a new type of cuisine (54%).
Seeking out 'newness' is also impacting where people choose to travel: in fact, visiting a new place is the number one priority for 86% of Italians, and four out of 10 Italians choose their holiday destination guided by a one-of a kind event, such as a sporting event or concert.
Location is important not only when it comes to choosing the destination, but also when thinking about the stay: almost half of Italians (46%) are deciding to book a specific destination based on a hotel they would like to stay at. Among the most important in-room amenities for Italians is the balcony (36%), which demonstrate how they like to immerse themselves in their surroundings.
"Our research shows the 2024 Italian traveler is planning to proritise travel, planning trips further in advance, and with a determination to discover new places and experiences," says David Kelly, Senior Vice President, Continental Europe, Hilton. "At Hilton, we are opening, on average, a new hotel each day around the world. We are focused on responding to the evolving needs of our Italian travelers for next year and years to come, with a commitment to delivering exceptional experiences in the best locations and properties."
To read Hilton's 2024 Trends Report, visit https://stories.hilton.com/2024trends.
Notes to Editors 
Methodology 
Italy consumer research: The survey of 1,000 Italian adults who travel was carried out by OnePoll between the 18th and 25th of August 2023.  
Hilton.com search data three months to end of July 2023 compared to the same period in 2022
---
About Hilton
Hilton (NYSE: HLT) is a leading global hospitality company with a portfolio of 22 world-class brands comprising nearly 7,400 properties and more than 1.1 million rooms, in 124 countries and territories. Dedicated to fulfilling its founding vision to fill the earth with the light and warmth of hospitality, Hilton has welcomed more than 3 billion guests in its more than 100-year history, earned a top spot on Fortune's 100 Best Companies to Work For list and been recognized as a global leader on the Dow Jones Sustainability Indices for six consecutive years. Hilton has introduced several industry-leading technology enhancements to improve the guest experience, including Digital Key Share, automated complimentary room upgrades and the ability to book confirmed connecting rooms. Through the award-winning guest loyalty program Hilton Honors, the more than 173 million members who book directly with Hilton can earn Points for hotel stays and experiences money can't buy. With the free Hilton Honors app, guests can book their stay, select their room, check in, unlock their door with a Digital Key and check out, all from their smartphone. Visit stories.hilton.com for more information, and connect with Hilton on Facebook, Twitter, LinkedIn, Instagram and YouTube.