Gli italiani viaggeranno ancora di più nel 2024, guidati dalla scoperta di nuovi luoghi (86%) e dalla ricerca di eventi unici (40%)
Gli italiani giocano d'anticipo: quasi la metà (48%) pianifica le proprie vacanze da due a sei mesi prima del viaggio
Il "solo travel" è un trend in crescita: 6 italiani su 10 pensano di viaggiare da soli nei prossimi 3 anni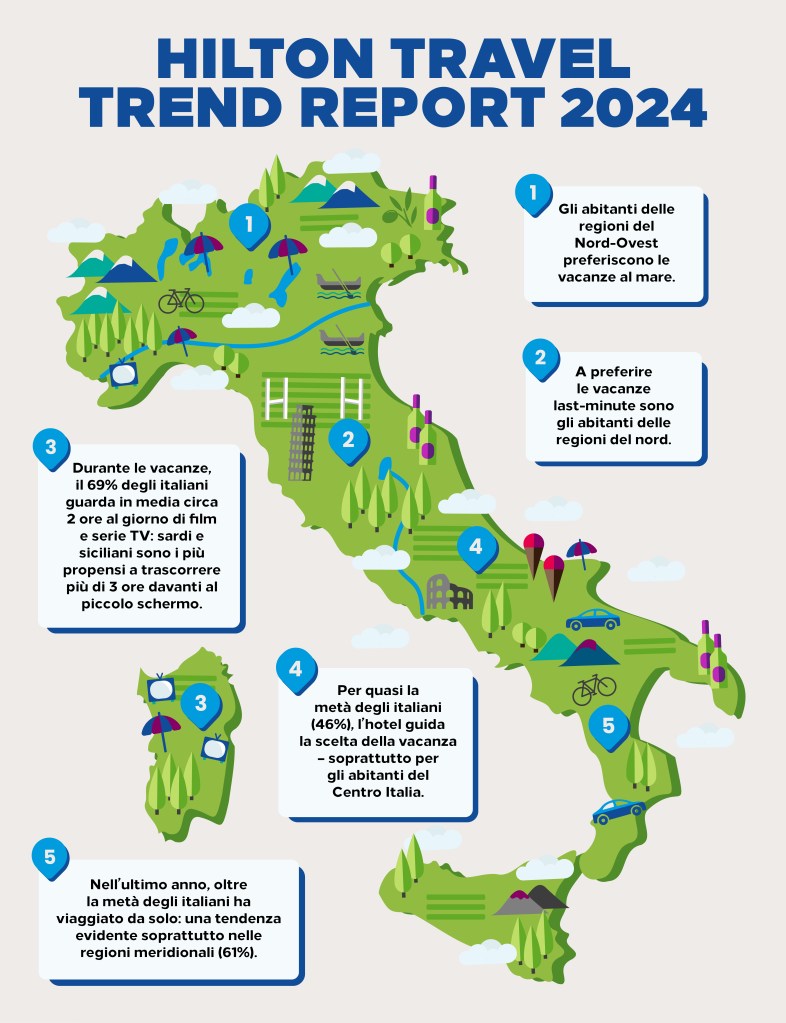 ROMA, Italia – Nel prossimo anno gli italiani hanno in programma di viaggiare di più, di esplorare nuove destinazioni ed esperienze e di considerare l'idea di viaggiare da soli. Questi i trend emersi dal Travel Trend Report 2024 di Hilton, uno studio globale che analizza l'evoluzione delle abitudini e degli interessi dei viaggiatori, evidenziando le principali tendenze dei giramondo italiani e le differenze tra le regioni del Paese.
VIAGGIARE DA SOLI È UN TREND IN CRESCITA
Nell'ultimo anno, più della metà degli italiani (56%) ha viaggiato da solo: un dato destinato a crescere nei prossimi anni. 6 italiani su 10, infatti, hanno confermato che pensano di fare un viaggio da soli entro il 2026. 
Questa tendenza riflette in particolare il desiderio di autonomia delle generazioni più giovani: gli intervistati di età compresa tra i 18 e i 24 anni sono i più propensi a intraprendere un viaggio da soli nei prossimi tre anni (83%). I motivi che spingono i giovani a scegliere un "solo travel" sono la scoperta di sé (44%) e l'indipendenza (38%).
PIANIFICARE CON LARGO ANTICIPO
Gli italiani pensano presto alle vacanze: il 48% infatti pianifica i propri viaggi da due a sei mesi prima della partenza. E quasi 4 italiani su 10 (38%) dichiarano oggi di organizzare le vacanze con maggiore anticipo rispetto a cinque anni fa.
Il 13% degli italiani organizza l'intero anno di vacanze a gennaio, una tendenza particolarmente diffusa nelle regioni meridionali e nelle isole (36%).
Tuttavia, il 14% degli italiani tende ad aspettare un'offerta last minute, programmando le proprie vacanze solo un mese prima della partenza.
LA DESTINAZIONE È TUTTO
Quando si tratta di scegliere il prossimo luogo dove andare in vacanza, gli italiani attingono dalla propria lista dei desideri e danno priorità alle destinazioni che hanno sempre voluto visitare (72%), alle nuove esperienze come scoprire una cultura diversa (58%) e al provare un nuovo tipo di cucina (54%).
La ricerca di "novità" sta influenzando anche i luoghi in cui le persone scelgono di viaggiare: infatti, visitare una nuova località è la priorità numero uno per l'86% degli italiani, mentre 4 italiani su 10 scelgono la destinazione delle loro vacanze spinti da un evento particolare, come un evento sportivo o un concerto.
La location è importante non solo quando si tratta di scegliere la destinazione, ma anche quando si pensa al proprio soggiorno: quasi la metà degli italiani (46%) decide di prenotare una specifica meta di viaggio in base all'hotel in cui vorrebbe soggiornare. Tra i comfort preferiti dagli italiani c'è la camera con balcone (36%), a dimostrazione del fatto che desiderano restare in contatto con l'ambiente che li circonda.
"La nostra ricerca mostra che il turista italiano ha in programma di privilegiare i viaggi, pianificandoli con maggiore anticipo e con la determinazione di scoprire nuovi luoghi ed esperienze", afferma David Kelly, Senior Vice President, Continental Europe, Hilton. "Hilton sta aprendo in media un nuovo hotel al giorno in tutto il mondo. Ci impegniamo costantemente per rispondere alle mutevoli esigenze dei nostri viaggiatori italiani, offrendo avventure eccezionali nelle migliori location e con le migliori esperienze di soggiorno."
Per leggere il Travel Trend Report 2024 di Hilton, visitare il sito: https://stories.hilton.com/2024trends.
###
Metodologia
L'indagine è stata condotta da OnePoll tra il 18 e il 25 agosto 2023 su un campione di 1.000 adulti italiani che viaggiano.
---
About Hilton
Hilton (NYSE: HLT) is a leading global hospitality company with a portfolio of 22 world-class brands comprising nearly 7,400 properties and more than 1.1 million rooms, in 124 countries and territories. Dedicated to fulfilling its founding vision to fill the earth with the light and warmth of hospitality, Hilton has welcomed more than 3 billion guests in its more than 100-year history, earned a top spot on Fortune's 100 Best Companies to Work For list and been recognized as a global leader on the Dow Jones Sustainability Indices for six consecutive years. Hilton has introduced several industry-leading technology enhancements to improve the guest experience, including Digital Key Share, automated complimentary room upgrades and the ability to book confirmed connecting rooms. Through the award-winning guest loyalty program Hilton Honors, the more than 173 million members who book directly with Hilton can earn Points for hotel stays and experiences money can't buy. With the free Hilton Honors app, guests can book their stay, select their room, check in, unlock their door with a Digital Key and check out, all from their smartphone. Visit stories.hilton.com for more information, and connect with Hilton on Facebook, Twitter, LinkedIn, Instagram and YouTube.
---
Hilton 
Hilton (NYSE: HLT) è un'azienda leader mondiale nel settore dell'ospitalità con un portfolio di 22 brand di livello mondiale, con 7.300 hotel e più di 1.1 milioni di camere, in 123 paesi e territori. Dedicata a compiere la propria missione di infondere nel mondo la luce e il calore dell'ospitalità Hilton ha accolto oltre 3 miliardi di ospiti da quando è stata fondata, oltre 100 anni fa, raggiungendo una posizione di rilievo nella classifica dei 100 Best Companies to Work For di Fortunes ed è stata nominata tra i global leader negli Indici Dow Jones per la sostenibilità per sei anni consecutivi. Hilton ha introdotto varie innovazioni tecnologiche per ottimizzare l'esperienza dell'ospite, tra cui Digital Key Share, upgrade automatici di stanza omaggio e la possibilità di prenotare stanze comunicanti. Attraverso il pluripremiato programma di fedeltà Hilton Honors, i 165 e più milioni di membri che prenotano direttamente con Hilton avranno la possibilità di guadagnare Punti per soggiorni e benefit esclusivi. Con l'app Hilton Honors gli ospiti possono prenotare il pernottamento, scegliere la camera, eseguire il check in, aprire la porta della sistemazione con la Digital Key e check out, tutto con lo smartphone. Per maggiori informazioni visitare il sito stories.hilton.com o i profili  Hilton su Facebook, Twitter, LinkedIn, Instagram e YouTube.