Solo travel is increasingly popular among UAE travellers, with 75 percent having been on a trip in the last year and 61 percent considering a trip in the near future.
New experiences are key, with the majority of travellers (85 percent) opting to visit a new country or place that they have never been to before.
UAE travellers are looking to make meaningful change with their travel decisions, with 93 percent citing environmental factors when booking trips.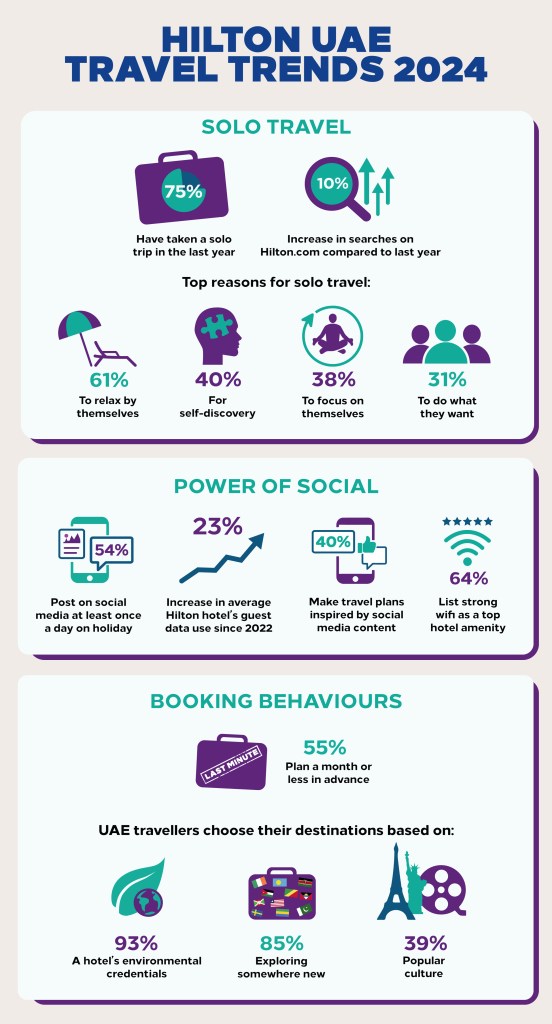 Dubai, United Arab Emirates and MCLEAN, Va - 5 October 2023:  Travel in 2024 is set for a year of evolution, with new research showing how UAE residents are reshaping the definition of the 'modern traveller'.
The research comes as Hilton releases its 2024 Trends Report – a global study that explores traveller behaviours across key markets including the UAE – reveals that the evolution of the UAE traveller is manifested in shifting preferences, including a greater desire for individual experiences, an increased pursuit of spontaneity, and a renewed focus on health and wellness. 
SOLO TRAVEL: THE RISE OF PERSONAL EXPLORATION
Solo travel emerged as a popular trend in the UAE study, with 75 percent of respondents having embarked on a solo trip within the past year, and 61 percent considering taking one within the next three years. Of those who have taken, or will take, a solo trip, a staggering 61 percent of respondents cited the desire to relax alone as their primary motivation. This was closely followed by seeking self-discovery (40 percent) and an eagerness to focus on individual wellbeing and enjoyment (38 percent). 
This is backed by data from Hilton.com as searches for solo travel on Hilton.com have increased in UAE by 10 percent compared to last year (2022), with top destinations searched by solo UAE travellers being Dubai, Ras Al Khaimah, Abu Dhabi, London & Istanbul. The most used search filters on Hilton.com for solo travel are free breakfast, executive lounges and to be near a beach.
Interestingly, the preference of solo travellers to disconnect and escape from the routines of daily life is met with a significant desire to stay connected and active online. Over half of all UAE-based respondents – 54 percent – still want to post on social media at least once a day while travelling, with strong Wi-Fi out-ranking room service and balcony access as the number one most important in-room amenity (64 percent). The data also points to the rising popularity of a working holiday, with many travellers booking trips that support a blend of business and pleasure. On average, guest data use in Hilton hotels has increased by 23 percent since 2022 across the EMEA market.
THE SEARCH FOR NOVELTY AND SPONTANEITY
Hilton's new report served to characterise next-gen travellers as people seeking newness and excitement. A whopping 85 percent look forward to visiting a place they've never been before when booking a holiday, underscoring the wide-spread curiosity and wonder of UAE residents. And nearly one third (28 percent) of respondents prioritise a bucket list or once-in-a-lifetime holiday when choosing their travel destinations, underscoring the importance of creating unique and memorable experiences that align with travellers' personal aspirations.
Over half of all travellers also revealed a desire for spontaneity, with 55 percent choosing to plan their holiday a month – or less – in advance. This adventure-driven approach suggests a growing trend towards more spontaneous holiday plans, perhaps fuelled by the need for greater flexibility and freedom. 
The influence of social media and popular culture is also significant in shaping travellers' vision of holidaymaking. A staggering 79 percent of UAE respondents admitted to booking their vacations based on trends from social platforms or TV shows, books, etc., drawing a connection between the impact of influencers and digital marketing and the observable efforts to achieve new and exciting travel experiences.
HEALTH, WELLNESS, & SUSTAINABILITY
Holistic wellbeing and a commitment to sustainability continue to take centre stage for the next-gen UAE traveller, driven by a collective global awareness of personal and environmental health factors. Nearly all respondents (93 percent) rank environmental credentials – like TripAdvisor Green Leaders and GreenKey Global – as 'somewhat or very important' when booking a holiday, highlighting the increasingly eco-conscious approach to travel planning. 
Dining also plays a key role in travellers' experiences, with 42 percent ordering room service every day or night while on holiday and 38 percent ordering room service 'often'. While these numbers indicate a preference for convenience, they're paired with increased recognition and responsibility. Almost half of all UAE respondents (48 percent) consider food waste 'always' or 'often' while travelling, with the majority (31 percent) prioritising healthy options when choosing a place to eat and 41 percent preferring to eat locally sourced ingredients. Following the success of Hilton's pioneering 'Green Ramadan' initiative in the UAE, it's especially empowering to note the increased awareness around how travellers choose to dine.
Commenting on the report, Aligi Gardenghi, Vice President, Operations, Arabian Peninsula, Hilton said: "We've seen the travel industry's dynamic comeback over the last few years, and it's clear that traveller perceptions are continuing to evolve around the world. As a leading global hospitality brand, Hilton is dedicated to understanding and attending to the changing preferences of our patrons, and the insights presented in the latest trend report serve to inform our approach to customer excellence and guest satisfaction.
"As next-gen travellers from the UAE seek to prioritise solo travel, working holidays, original destinations, and environmental responsibility, we remain committed to delivering pioneering hotel experiences that push the boundaries of modern hospitality and lay the foundations for the future of a discerning and perceptive traveller population," he added.
To read the full Hilton 2024 Trends Report, visit https://stories.hilton.com/2024trends.
Notes to Editors 
Methodology
UAE consumer research: The survey of 1,000 UAE adults who travel was carried out by OnePoll between 25 August and 1 September 2023, a combination of expatriates and nationals. 
Hilton Global research: Ipsos quantitative online survey in July 2023 in China, Germany, Great Britain, India, Japan, Mexico, Singapore, U.A.E and the U.S.
Hilton own data: 

Hilton.com search data three months to end of July 2023 compared to the same period in 2022
Data usage is the first six months of 2023 (to 30 June) compared to the same period in 2022 for Hilton hotels in Europe, Middle East and Africa
---
About Hilton
Hilton (NYSE: HLT) is a leading global hospitality company with a portfolio of 22 world-class brands comprising nearly 7,400 properties and more than 1.1 million rooms, in 124 countries and territories. Dedicated to fulfilling its founding vision to fill the earth with the light and warmth of hospitality, Hilton has welcomed more than 3 billion guests in its more than 100-year history, earned a top spot on Fortune's 100 Best Companies to Work For list and been recognized as a global leader on the Dow Jones Sustainability Indices for six consecutive years. Hilton has introduced several industry-leading technology enhancements to improve the guest experience, including Digital Key Share, automated complimentary room upgrades and the ability to book confirmed connecting rooms. Through the award-winning guest loyalty program Hilton Honors, the more than 173 million members who book directly with Hilton can earn Points for hotel stays and experiences money can't buy. With the free Hilton Honors app, guests can book their stay, select their room, check in, unlock their door with a Digital Key and check out, all from their smartphone. Visit stories.hilton.com for more information, and connect with Hilton on Facebook, Twitter, LinkedIn, Instagram and YouTube.