People in the UK are set to spend more on travel in 2024 as they prioritise exploring new places (70%) or different cultures (35%), making memories (37%) and new adventures (24%)
Confidence in travel is returning as a majority (55%) say they are booking holidays 3 - 6 months in advance 
Many are saving the pennies to allow for travel, with 52% reducing spending in other areas to splurge on their holidays 
The new research comes as Hilton releases a UK travel map uncovering the insights and interests of UK travellers across key regions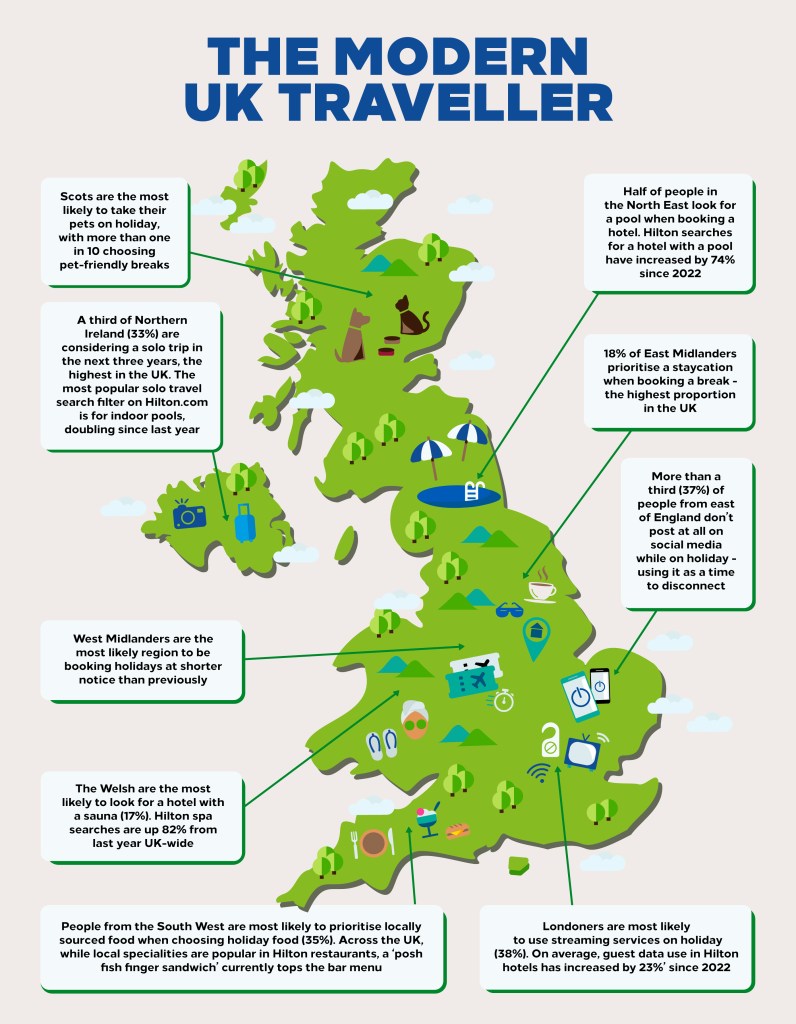 LONDON, England and MCLEAN, Va - Travel in 2024 is set for a year of evolution, with new research showing how people in the UK are reshaping the definition of the 'modern traveller' by prioritising experiences, changing booking behaviours and reframing wellness and relaxation. 
The research comes as Hilton releases its 2024 Trends Report - a global study unpacking how traveller behaviours and interests are changing. Supported by a UK travel map which pinpoints the regional differences of travellers and trends across the UK, from the rise of holiday streaming and solo travel to increasingly evolving booking habits. 
EXPERIENCE OVER EVERYTHING
Travellers are prioritising new experiences (85%), with many looking forward to exploring the unknown (81%), trying the local cuisine (64%) and learning about local customs and traditions (48%) when on holiday. 
And people are saving the pennies to make it happen, with more than half (52%) reducing spending in other areas to prioritise travel. Hilton's global trends report found over half (56%) of people in Britain plan to spend more on travel in 2024 than in 2023. 
Some are going further to immerse themselves into local traditions, with 25% looking for locally sourced food while away. However, when it comes to staycations, Brits can't get enough of the comfort classics with a 'posh fish finger' sandwich currently the top choice on Hilton's UK bar menu1.
SOCIAL INFLUENCE
The increasing influence of social media is no surprise, and it's even affecting holiday planning. In fact, a third of Gen Z travellers select their destination based on what's trending on social media (34%), popular culture (36%) and live events or festivals (34%) driven by leading artists who have been performing this year. 
Gen Z travellers select their destination based on:
What's trending on social media
However, when it comes to enjoying their holiday, many are pulling the plug on technology, with three in ten taking a break from social media to disconnect from life back home (31%). 
EVOLVING BOOKING BEHAVIOURS
The new research revealed people in the UK are starting to plan ahead with a majority of travellers (55%) booking a holiday 3 - 6 months in advance, and 6% even booking their holidays for the whole year in January. 
GOING SOLO
People are craving some 'me time' with 16% of people having taken a solo trip in the last year. And this is increasing, with nearly a quarter (24%) considering a break on their own in the next three years, liking the independence (42%), flexibility (46%) and self-discovery (20%) that comes with it.
Northern Ireland leads the way, as a third (33%) are considering a solo trip in the next three years, the highest in the UK. It is also no surprise that 18 -24yrs olds are the most likely to consider solo travel, rising to 40%.
Solo travellers on Hilton.com are keen to relax while away, with searches for indoor pools by people travelling on their own doubling since last year. 
A HOLISTIC APPROACH TO WELLNESS AND RELAXATION 
Hilton data shows many in the UK are seeking out wellness when planning breaks - with spa searches up 82% from last year. 
However, self-care isn't all about spas and swimming, with a quarter of people (25%) using online streaming services in their hotel rooms to relax - amassing to an average of 14 hours of TV over a week-long stay. Londoners are most likely to use streaming services on holiday (38%), while on average, guest data use in Hilton hotels has increased by 23% since 2022.
Patricia Page-Champion, senior vice president & global commercial director at Hilton, said: "Our research highlights an increasing focus on experiences, the influence of social media and entertainment on choosing breaks, and the reframing of wellness and relaxation in travellers' minds. 
"And underlying these evolving trends, one constant we continue to see is the importance of holidays to people in the UK, who say they plan to travel more in 2024 even if this means cutting back spending in other areas. With travel such a priority for so many, our focus is on delivering a genuinely great stay in the best locations around the world." 
To read Hilton's 2024 Trends Report, visit Stories.Hilton.com/2024trends.
Notes to Editors 
For media enquiries, please contact hilton@tinmancomms.com 
Methodology
UK consumer research:  
The survey of 2,000 UK adults who travel was carried out by OnePoll between 21st and 25th August 2023. 
Hilton Global research:
Ipsos quantitative online survey in July 2023 in China, Germany, Great Britain, India, Japan, Mexico, Singapore, U.A.E and the U.S.
Hilton own data: 
Bar menu insight from menu shared by 21 of Hilton's hotels in the UK
Hilton.com search data three months to end of July 2023 compared to the same period in 2022
Data usage is the first six months of 2023 (to 30 June) compared to the same period in 2022, for Hilton hotels in Europe, Middle East and Africa
---
About Hilton
Hilton (NYSE: HLT) is a leading global hospitality company with a portfolio of 22 world-class brands comprising nearly 7,400 properties and more than 1.1 million rooms, in 124 countries and territories. Dedicated to fulfilling its founding vision to fill the earth with the light and warmth of hospitality, Hilton has welcomed more than 3 billion guests in its more than 100-year history, earned a top spot on Fortune's 100 Best Companies to Work For list and been recognized as a global leader on the Dow Jones Sustainability Indices for six consecutive years. Hilton has introduced several industry-leading technology enhancements to improve the guest experience, including Digital Key Share, automated complimentary room upgrades and the ability to book confirmed connecting rooms. Through the award-winning guest loyalty program Hilton Honors, the more than 173 million members who book directly with Hilton can earn Points for hotel stays and experiences money can't buy. With the free Hilton Honors app, guests can book their stay, select their room, check in, unlock their door with a Digital Key and check out, all from their smartphone. Visit stories.hilton.com for more information, and connect with Hilton on Facebook, Twitter, LinkedIn, Instagram and YouTube.